Where the Hippies Go – Denver Holiday Events
Headed West's Denver Holiday Event Guide 2022
How do you celebrate the Holidays in Denver? Are you a decorating fiend, party thrower, or obsessed with everything holiday?! Well, if you answered yes to any of those questions, are you in for a treat with Headed West's Denver Holiday Event Guide 2022! 
So what exactly happens in Denver during the Holiday season? First, we invite you to get all your holiday goodies with us at Headed West on Broadway…cause by now, you know we do it BIG! Just check out these EPIC deals
HERE!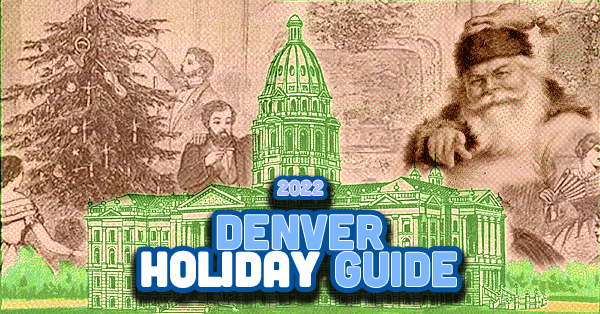 Denver Holiday Attractions
This blog will act as a reminder to some long-time Denverites and all the new arrivals to the state. So yes, even if you are a Denver veteran, you too might even learn something new!
Before you head out on a holiday extravaganza, we suggest you swing by Headed West and grab some goodies to "Light up the night" or "Chill out in the crowd" if you catch our drift!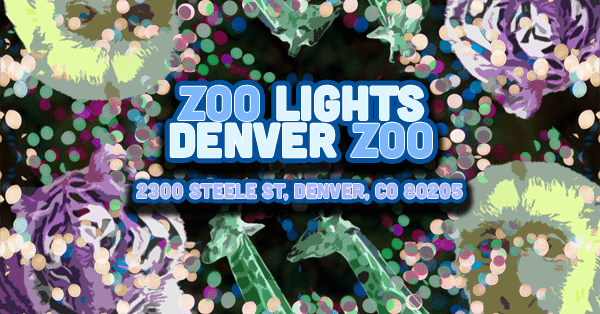 If you haven't been to Zoo Lights at the Denver Zoo…what are you even doing? 
They light up the park with literally one million lights. That's not an exaggeration! Over 1,000,000 lights strung up in the trees, displays galore, animated figures, and epic scenes that you'll just have to see to believe!
Best of all, you can sip on holiday season craft cocktails, eat some holiday treats and watch live ice-carving exhibitions! 
If you are thinking to yourself, "But I've already seen it before!" Well, you are wrong! This year the Denver Zoo welcomes new installations of the Aurora Borealis, Savannah Sunset, and the Electric Jungle. Sounds trippy to us! 
Zoo Lights 
Denver Zoo
2300 Steele St, Denver, CO 80205
Sunday-Thursday: 5:30 p.m.–8:00 p.m.
Friday & Saturday: 5:30 p.m.-9:00 p.m.
Tickets – $25+
By Car – Parking lots adjacent to the zoo or in the zoo's four-level parking garage. All of the parking is free. Access to these parking lots is along 23rd Avenue between York Street and Colorado Boulevard near the zoo's main entrance.
By Bus –
Bus routes that pass the Denver Zoo are Bus Line 20 & 40
(Colorado Blvd & 23rd Ave; York St & 23rd Ave; 40th / Colorado Station; 28th Ave & Steele St; 30th & Downing Station.)
By Lightrail – Not really an option since the closest stop is about a 40-minute walk!
PROHIBITED ITEMS
Alcoholic beverages, marijuana or any illegal substance.
Recreational devices such as drones, remote control toys, skateboards, scooters, inline skates, shoes with built-in wheels.
Wheeled mobility devices with less than 3 wheels or devices that cannot maintain stability and balance when stopped, unpowered or unoccupied. Training wheels or similar modifications are not permitted. Devices must be manually or electrically powered and operated at a walking pace. Devices should be single rider and not exceed 36″ (92cm) in width and 52″ (132cm) in length.
Except as permitted by state or city law, the Denver Zoo prohibits any person from using, possessing, carrying, displaying or distributing any real or simulated weapon on or within the Denver Zoo campus, including but not limited to firearms, certain knives (see D.R.M.C. §38-117 and 38-119), explosives or incendiary devices, toy blasters, squirt guns, plastic knives or swords. The Denver Zoo campus includes Denver Zoo parking facilities and structures.
Glass containers (excluding small containers such as baby food jars).
Pets or other animals, except approved service animals. Service animals are defined as dogs or miniature horses that are individually trained to do work or perform tasks for people with disabilities. Service animals should remain on a leash or in a harness and under the control of the owner at all times. Due to animal welfare concerns, service animals may not be permitted in certain areas of the Zoo.
Balloons and plastic straws are not permitted in the Zoo for the safety of our animals.
Other items that we determine may be harmful or disruptive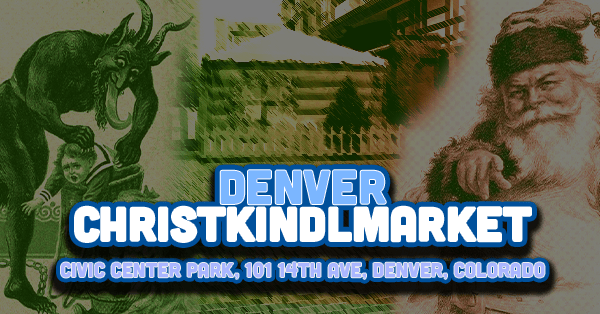 2022 marks the 22nd year of this Denver tradition, and this is a MUST-GO-TO event!
Visiting the Christkindlmarket and feel like you've been transported to a traditional German/European holiday wonderland! Meet St. Nikolaus, Krampus, and even Christkind! Enjoy some European beer, tasty treats, and wander through the endless wooden huts! 
So what's there to do besides checking out the epic hall, eating tasty treats, or immersing yourself in other cultures? 
Glad you asked because they have a FULL event calendar
here!
Denver Christkindlmarket
Civic Center Park, 101 14th Ave, Denver
November 18 – December 23, 2022
Sunday – Wednesday: 11 am – 7 pm
Thursday – Saturday: 11 am – 9 pm
Final Week, Dec 15 – Dec 23: 11 am–9pm
By Car – Plenty of on-street parking around North Broadway and 13th. The closest parking garages are located off 14th and Cherokee & 14th and Bannock. 
By Bus – The Free Park and Ride will drop you off right at the end of 16th Street Mall. From there, it's a 5-minute walk to the Park. Other Lines include 0 10 52 9 (Broadway & W 14th Ave, Colfax Ave & Sherman St, Colfax Ave & Broadway)
By Lightrail –
Most RTD Lightrail lines will drop you off at Union Station. From there, you can catch the Mall ride to Civic Center Station. The closest RTD Lightrail stop is the L line at 16th and California. 
There isn't an official list of prohibited items…just be cool! It's family-friendly after all!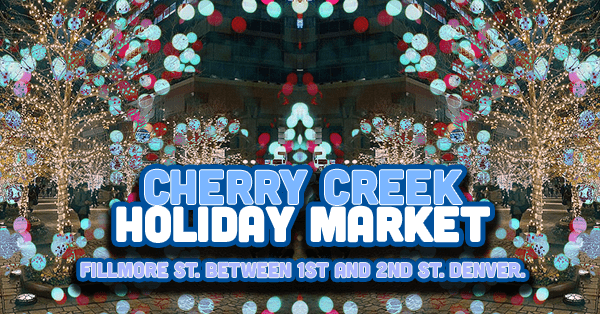 This is the 3rd Cherry Creek Holiday Market, so it's just getting started! Check it out before it becomes the next hottest thing in Denver! Over 80 local vendors pushing out some of the coolest crafts from around town, outdoor events, live music, and holiday decor everywhere!
Did we mention it's pet friendly…so bring your dog. But we want to say hi, so bring them to us first! We have treats!…for dogs, not people.
Cherry Creek Holiday Market
Fillmore St. between 1st and 2nd st. Denver.
Sunday – 11:00am – 7:00pm
Monday – 12:00pm – 7:00pm
Tuesday-Wednesday – 11:00am – 7:00pm
Thursday-Saturday – 11:00am – 9:00pm
Christmas Eve, December 24, 11:00am-2:00pm
By Car – Plenty of on-street parking on all streets.
By Bus – Bus Line 44, 3, 3L, 34, 83D, 83L (Josephine St & 3rd Ave,1st Ave & University Blvd) 
Luminova Holidays at Elitch Gardens Theme Park
Every day until 1/1/23 from 5pm -10pm
Tickets $18+ 
Over 3,000,000 lights light up the 200,000 square feet of the park at night, a 70-foot-tall Christmas Tree, and a 300-foot-long lighted tunnel! If you like to "Light up," visit this park…but don't actually light up cause it's a non-smoking park, lol. 
Blossoms of Light at the Denver Botanic Gardens
Every day until 1/7/23 from 4:30pm to 9pm
Tickets $25
Sustainable LED Lights illuminate the dormant gardens. Welcome to your new favorite twinkling winter wonderland!
Headed West Holiday Deals – December 1st – 31st
Parade of Lights by 9NEWS 6pm December 3rd. Civic Center Park & Denver
A Christmas Carol at the Wolf Theatre. Now until Dec. 24th, 2022
'Elf' in Concert at Boettcher Concert Hall Dec. 22nd & 23rd
Christmas Beer and Cookies Tour in Denver's RiNo District every Thursday
December 29th STS9 at the Filmore
December 30th Decadence at the Colorado Convention Center
December 30th String Cheese Incident at the Mission Ballroom
That's it for the Headed West Denver Holiday Event Guide! Happy Holidays and don't forget to check out our epic
December 2022 sales
!
**Disclaimer – This blog is intended for entertainment purposes only. The writer of this blog and the website that it is posted on are not affiliated with any of these events or attractions. Please refer to their respective websites for the most up-to-date information. We do not condone illegal activities, so be safe and enjoy everything as a normal human would!