How To Haunted House in Colorado!
It's officially the start of the "Spooky" Season, and we couldn't be more excited! Who doesn't love Halloween decor, scary movies, and spooky-themed…well…everything!? The best part about the spooky season is that Haunted Houses will start opening their doors and launch Halloween into full gear!
If you haven't had the chance to visit a Haunted House in Denver and don't know where to start, don't worry. As always, Headed West's got your back with this How to Haunted House in Denver Blog!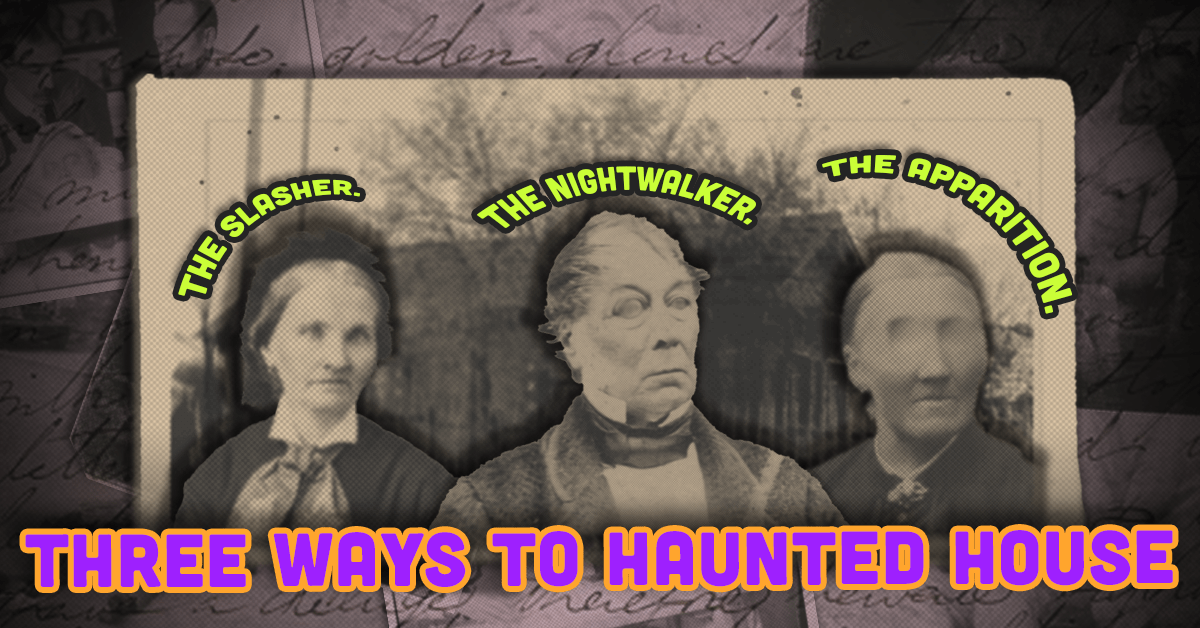 How To Haunted House in Colorado!
Visiting haunted houses in Colorado will get you in full spooky season spirit! So how do you Haunted House in Colorado? We came up with three of the best ways to spend a night in Colorado, enjoying all the Spooky stuff you can handle!
The Slasher is for someone who wants to hit all the spooky spots in Denver and cap their night off by visiting one of the best haunted houses! You'll start your day by packing your car with road trip essentials, items for a small picnic, and goodies from Headed West. Then you'll head out and visit all the spooky spots around town!
The first stop of the day is a quick picnic at the most haunted park in downtown Denver, Cheesman Park! Now used as a multi-use recreational area, this park had a ghostly start. It's on the old Mount Prospect Cemetery grounds, founded in 1858. It was decided to turn the area into a park, and families of the buried there were given 90 days to have their loved ones' remains moved. Unfortunately, many were poor and could not, meaning there are still bodies buried underneath all that lovely green grass. Great way to start, right?
After your picnic at Cheeseman Park, head to Byers-Evans House Museum. This house has been restored to an early 1900s time period containing original personal items, furniture, and other goodies of the day. Paranormal believers claimed to hear voices coming from empty rooms and have seen full-body apparitions and ghostly figures!
Now it's starting to get late, so head out to the 13th Floor and begin your night of terror!
Want a creepy staycation? The nightwalker is for those who want the full-blown spooky experience! You can start by booking a night at the Haunted 
Patterson Inn
 or Brown Palace Hotel. Either of these hotels has creepy stories of paranormal activity. So you'll sleep well knowing that someone is ALWAYS WATCHING!
While you lay in bed waiting to see a ghost, book a trip for the
Capital Hill Denver Ghost Tours
, where you will join a paranormal investigator as they guide you on a walking tour of some of Capital Hill's most notoriously haunted homes. During this guided tour to these eerie locations around Denver, you will hear real stories from the tour guides while providing you with actual haunted evidence!
Afterward, head to a haunted house of choice and spook the night away! 
For those that want the full character experience, you might be The Apparition! Head to the Wizards Chest on Broadway, get a new costume, and fully immerse yourself in the spooky world. Once in costume, head to any of the Haunted Houses listed below and enjoy the night in character!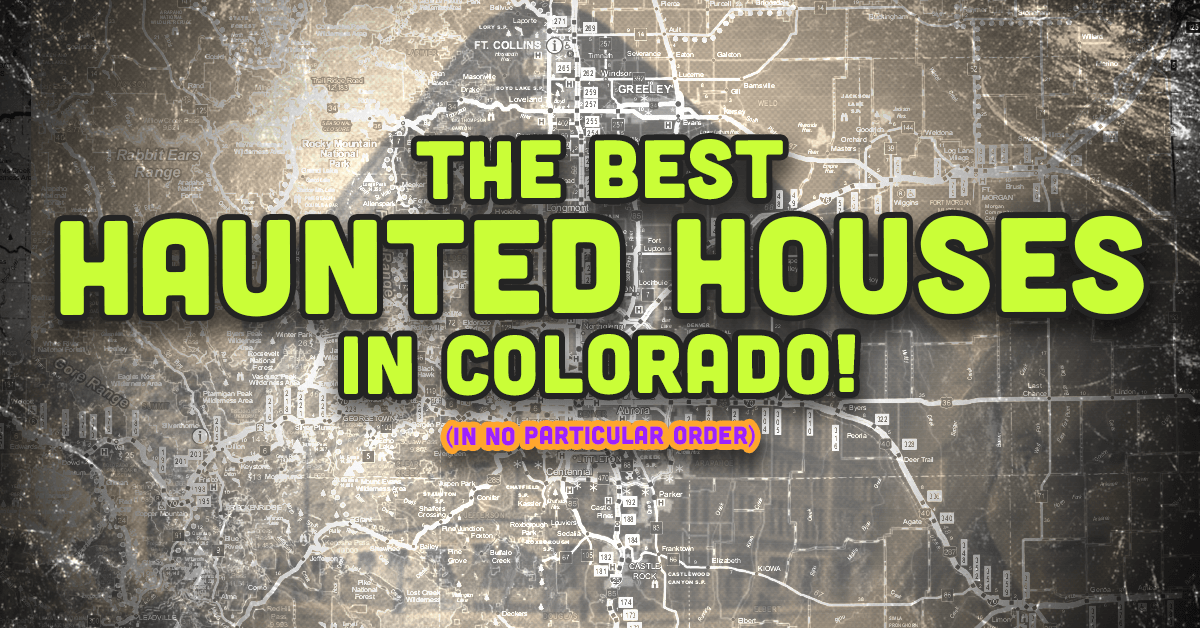 Best Haunted Houses in Colorado (in no particular order)
The Frightmare Compound
10798 Yukon St Westminster, CO 80021
Opening Day – September 16th
What to Expect
Over 38 years of frights! The Frightmare Compound is located just north of Denver in Westminster but is worth the drive! Visit the Haunted Swamp land, monster museum, gift shop, coffin simulator ride, and mini escape rooms!
The Compound's story dates back to the 1970s when it was a government-funded project to research decomposing human and animal remains. After reports of grave robbing and missing persons cases, the project was terminated. Legend has it that a scientist refused to leave and created half-living gruesome creatures. 
This land was sold to a man named Brad Holder. Rumors have it that the government sold it to him in exchange for privacy and silence about what happened here and that Brad is the mad scientist himself! Over the years, people living in the area have heard screams and strange sounds… Are you willing to visit this Compound? 
Tickets and Pricing
Ticket Info can be found here.
Standard Ticket Info
General Admission $29.99, VIP Admission $39.99, and SImmediate Access $49.99.
Parking at the Frightmare Compound Lot located on the property!
Getting to the Frightmare Compound from Denver
Take I-25 North to Hwy. 36 West. Take Hwy. 36 West to 104th Ave (Church Ranch Exit). Take 104th West (left) to Old Wadsworth. Take Old Wadsworth North (right) to 108th Ave. We are on the southwest corner of 108th and Old Wadsworth.
Hours and Dates
Sun – Thurs
7:00 p.m. – 10:00 p.m.
Fri – Sat
7:00 p.m. – 12:00 a.m.
October Opening Weekend
Fri(9/30), Sat(10/1) & Sun(10/2)
Hours: 7:30pm to 11pm
Halloween Day Hours
(10/31)
Hours: 7pm-11pm
Lights Out Event
Friday (11/4), Saturday (11/5)
Hours: 7pm-11pm
Closed Dates
9/18 to 9/22, 9/25 to 9/29, 10/3 to 10/5, 10/10, 11/1 to 11/3
The 13th Floor – Haunted House Denver
3400 E. 52ND AVE., DENVER, CO 80216.
What to Expect 
The 13th Floor in Denver is more than a Haunted House as it will feature horror-themed cocktails from The Shriekeasy Pop-up Bar, a snack bar, Halloween-themed photo ops, a selfie station, and a live DJ playing music while you wait in line! Plus, you can purchase photos and merch before you leave!
This Haunted House usually has three themes released before the grand opening. The 2021 season themes were FrostBite, The Dollmaker, and BadBlood.
Frost Bite – is a state-of-the-art Cryogenics lab that has had a breakthrough in reanimating the dead. This new technology gives life back to the deceased as they thaw from their frozen state.
The Dollmaker – a scary house at the end of the street, sits abandoned after the passing of its owner, the dollmaker. Although the house sits quiet and still, his collection of Victorian dolls still fills every inch of every room. 
Bad Blood – a ruthless pack of werewolves on wheels known as the Lycan MC, clash with the savage mob of skate punk vampires, the Coffin Crew. Anyone caught between the warring factions is subject to the carnage that awaits.
Want more from this spooky experience? You can purchase additional tickets for Axe Throwing, the SubZero Secret Bar, and an intense fear-inducing Sensory Overload experience that is not for the faint of heart! 
Ticket and Pricing Info
Ticket Info can be found
 here. 
PRESALE 
General Admission PRESALE is SOLD OUT! 
Fast Pass Starts at $25.99 1/3 the wait time of GA. Skip the Line Tickets cost $35.99.
Standard Ticket Info
General Admission is $26.99, Fast Pass $36.99, and Skip the Line $46.99.
Parking at the 13th Floor – Free street parking is available around the haunted house. Please do not park in front of no parking signs, gates, or driveways. Lock your cars and do not leave valuables out in the open when parking. The 13th Floor Haunted House is not responsible for theft from or damage to parked vehicles. Any parking offered off of our property is not owned by or affiliated with the 13th Floor Haunted House.
Don't forget to sign your 
waive
r in advance! 
Rules of the 13th Floor Haunted House
no food, drinks, bottles, recording devices, flash photography, or flashlights are allowed.
No prop or handheld items are allowed inside. If you come in costume, please leave your accessories in your car.
Bring a clear bag! Only clear bags not exceeding 4.5″ x6.5″ will be allowed to limit the touching of personal items.
Mistreating any performer or staff member will result in you being sent home.
Wearing heels or flip-flops is discouraged as they are the shoes we find the most in our lost and found.
No groups larger than ten will be sent through together.
Bonus Spots
Haunted Field of Screams:
A Ride to the Riverdale Gates of Hell
10451 McKay Rd, Thornton, CO 80229
What to Expect 

Colorado's largest haunted attraction is a 40-acre cornfield featuring terrorizing experiences, backing the famously haunted Riverdale Road! Legend has it that a man went crazy and burnt his house with his family still inside. After the fire subsided, the only thing left was large iron gates, the gates to hell. Locals have reported evil beings roaming around, gathering near the gates, evil rituals, and human sacrifices. 

Ticket Info can be found 
here.
Haunted Field of Screams opens at SUNDOWN and closes at MIDNIGHT Friday & Saturday and at 10 P.M. Thursday & Sunday.

Reinke Bros Haunted House

5663 S. Prince Street
Littleton, CO 80120
303 795 5006

Reinke Brothers Haunted Mansion is reopening its doors after a three-year hiatus. A 50-year-old family tradition! Haunted Mansion, Big Wonderful, free concert, food trucks, and vendors!
This blog is intended for entertainment purposes only, the writer of this blog and the website that it is posted on, are not affiliated with the NFL or the Broncos Please refer to the NFL or The Broncos website for the most up-to-date information.