Where the Hippies Go – Meow Wolf Convergace Station Denver
We get it. Nothing beats sitting on the couch and listening to some RAD tunes, but sometimes it's nice to get out of the house and explore! The great thing about Colorado is there is so much to do and, yes, more than just hiking in the mountains while drinking craft beer! If you are saying, "Well, what can I do?" We got you!
Welcome to a new Headed West series, "Where the Hippies Go," we will highlight all the best places to visit around Denver and throughout the entire state of Colorado! As this is the first blog in the series, we might as well do it big and start with the trippiest of all – Meow Wolf Convergence Station!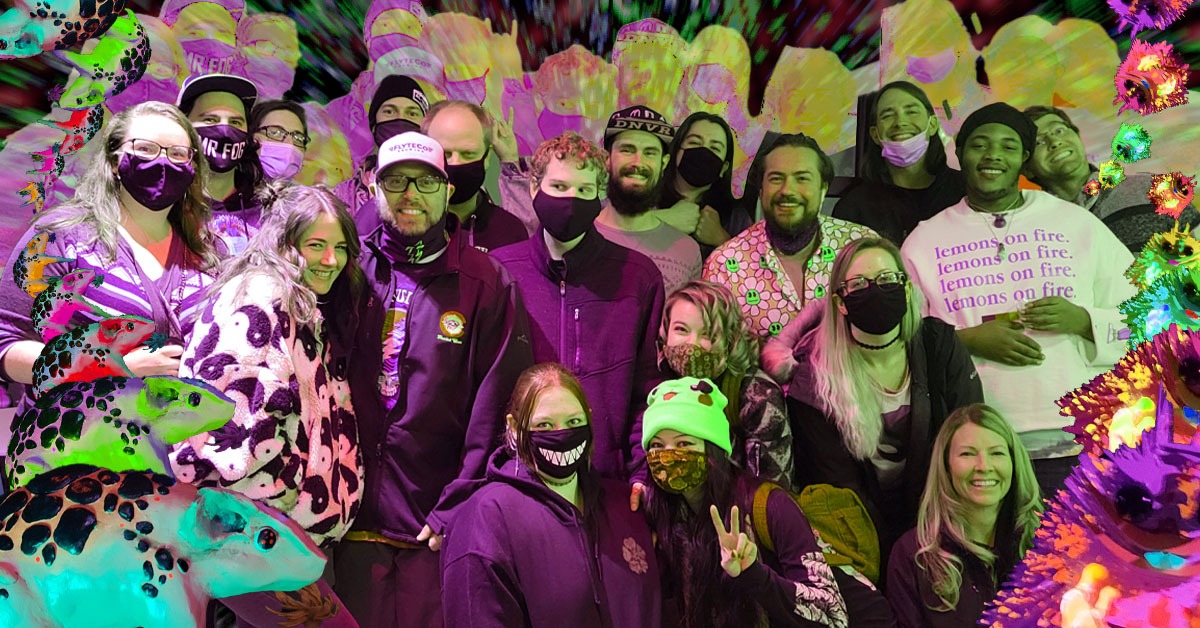 The Meow Wolf Backstory
The Meow Wolf Project was started in 2008 by a small group of Santa Fe, NM artists. Sick of the generalized and over-marketed art community, they set out to create unique and different art of their own. Their first significant installation was called The Due Return. A 70-foot-long ship was set up at the Center of Contemporary Arts in Santa Fe.
This was just the beginning as the artists kept creating more art installations, and their following started to grow with the movement. As more artists joined this collective, they knew they were on to something and wanted to create a permanent art installation, but they had no funding or cash flow. So naturally, they reached out to George R.R. Martin, of course…you know the mind behind the Game of Thrones.
It turns out they knew Mr. Martin through the art community and convinced him to invest in the Meow Wolf project by funding the purchase of an abandoned bowling alley. This bowling alley became the original Meow Wolf called the House of Eternal Return, located just outside Santa Fe, NM.
Psychedelic Experience – Meow Wolf Convergence Station Denver
Let's say we are kind of playing on the whole hippies like trippy right now, but you get it. We are about to embark on an unforgettable psychedelic experience that will expand your mind, mannnn!
Convergence Station is located east of Empower Field at Mile High, nestled between I-25 and Colfax. Weird location, right? Would you expect anything less?
Meow Wolf Denver is the third Meow Wolf project and its most extensive one yet. With over 70 installations by 300 artists, four floors, and around 90,000 square feet! The buildout took over three years and was finally completed in September 2021.
"Cool info, bro, but what is it?" We are getting there!
What is Meow Wolf Convergence Station?
Meow Wolf Convergence Station is an interactive sci-fi art exhibit that tells a story the entire way through. You will be immersed into new worlds created by talented artists and explore the cosmos at a mile high! So grab on tight cause it gets trippy!
Visitors at Convergence Station will safely travel through four colliding multiverse worlds via the Transmonic Rift Access Mechanism run by the Quantum Department of Transportation (QDOT). QDOT created a safe way for normal humans to explore these worlds, so don't worry. You won't get lost in the multiverse!
Expect to see sprawling alien streets filled with glowing neon lights, travel through the stars, visit the 6th dimension, and use your memories as currency! Meow Wolf is just something you have to experience to understand, so take a trip and leave your expectations back on earth!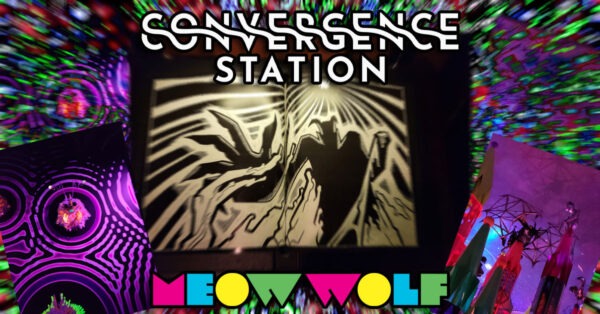 Meow Wolf Denver – The Details
QDOT suggests purchasing your tickets in advance by selecting a timeslot on their website. Ticket holders should arrive 10 minutes before their takeoff.
A single ticket for Meow Wolf Denver costs $39 for Colorado residents, $49 for non-residents, $30 for Colorado children, seniors, and military, and $44 for Non-Colorado children, seniors, and military.
**Ticket prices fluctuate depending on demand and day, so always check ahead of time**
Group Sales for 15 or more people can be purchased by contacting the sales team.
You can reschedule your visit up to one hour before your visit—no time limit in place for visits.
You can expect to spend 1-2hours for a quick walk-through. However, you will get lost in these worlds, so give yourself some time to enjoy it!
Best of all, pictures and videos are 100% allowed! for personal use only
What isn't allowed at Meow Wolf Denver?
Weapons of any kind, including firearms, pocket knives, pepper spray, large chains, spiked jewelry, etc.
Outside food, beverages, or alcohol
Gum
Flasks and containers
Vape pens or electric cigarettes
Cigarettes, cigars, or pipes
Illegal drugs
Marijuana / Cannabis
Markers, stickers, or spray paint
Strollers
Backpacks (may be left at bag check for a fee)
Large bags/packages (may be left at bag check for a fee)
Skateboards
Heelys shoes
Camera accessories such as lights, large camera flashes, tripods, or other professional camera equipment
Extendable Phone Stabilizers (i.e., "Selfie Sticks")
Drones
Lighters
Laptop computers or tablets
Umbrellas
Flow Toys
Any live animal that is not a service animal*
Costumes with masks that obscure your entire face
No vaping or smoking allowed inside the building or exhibit
Where is Meow Wolf Denver Located?
1338 1st St, Denver, CO 80204
When is Meow Wolf Denver Open?
Monday 10 AM–10 PM
Tuesday 10 AM–10 PM
Wednesday 10 AM–10 PM
Thursday 10 AM–10 PM
Friday 10 AM–12 AM
Saturday 10 AM–12 AM
Sunday 10 AM–10 PM
Other Meow Wolf Locations
Santa Fe – 1352 Rufina Cir, Santa Fe, NM 87507
Las Vegas – 3215 S Rancho Dr #100, Las Vegas, NV 89102
Needless to say, this place gains the Stamp of Approval from us Colorado Hippies, and this is absolutely where us hippies go! So take a trip that is truly out of this world!
This blog is intended for entertainment purposes only, the writer of this blog and the website that it is posted on, are not affiliated with Meow Wolf. Please refer to Meow Wolf's website for the most up-to-date information.