Best Places in Colorado to Beat the Heat
August is here and you know what that means…a sun blazing hotter than a glowing dab nail! As the temperatures soar, there's no better time to escape the heat and explore the coolness of Colorado!
Join us as we cool down and take a trip to the Best Places in Colorado to beat the heat!
Best Places in Colorado to Beat the Heat
Colorado may be known for its Winter Wonderland vibes and snowy escapes, but summer can get HOT. So if you are missing that chill in the air, we got you. We narrowed down the best places to chill out and still enjoy summer!
From breathtaking mountain escapes to serene water getaways, these are some of the best places to refresh and rejuvenate! So, sit tight, pack a bowl, and start packing that gear up for your next spin around Colorado!
Blue Mesa Reservoir
Gunnison, CO
Elevation: 7,519?
August Average Temperatures: mid-70s to mid-40s
Cost: $10-$20
Nothing says beating the heat like the largest body of water in Colorado! Not only is it Colorado's largest "lake" it's one of the largest artificial lakes in the United States! With over 96 miles of shoreline, you can catch the cool breeze off the water and pretend you are at a faraway beach!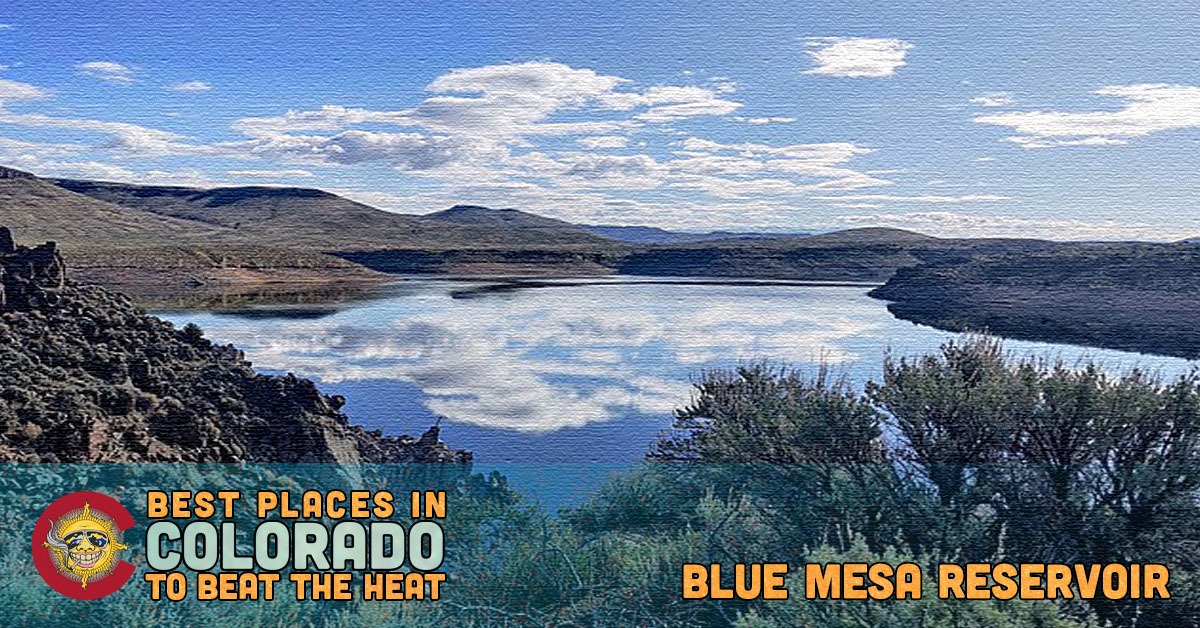 What to do at Blue Mesa Reservoir
Boating: Perfect for boating, jet skis, and kayaking. Plenty of ramps are available for launching watercraft.
Fishing: Cast those lines and catch some trout, kokanee salmon, and perch.
Swimming: Take a refreshing dip in the cool (67-71°F) waters!
Camping: Plenty of developed and primitive camping sites.
Hiking: Plenty of trails and viewing spots. Here are our top 3.
Pine Creek – a 2-mile loop that descends over 180 feet into a canyon!
Neversink – A very easy 1.5 miles streamside trail.
Curecanti Creek – Expect a 3-4 hour hike around four miles round-trip with a 900-foot elevation change.
Ouray, Colorado
Elevation: 7,792 feet
August Average Temperatures: Highs 72°F / Lows 49°F
Cost: Depends on what you want to do!
Ouray, Colorado is a charming mountain town known as the "Switzerland of America." Located just outside of Teluride in the San Juan Mountain range, this area offers a ton of outdoor activities, including hiking, off-roading, white water rafting, and even ghost towns!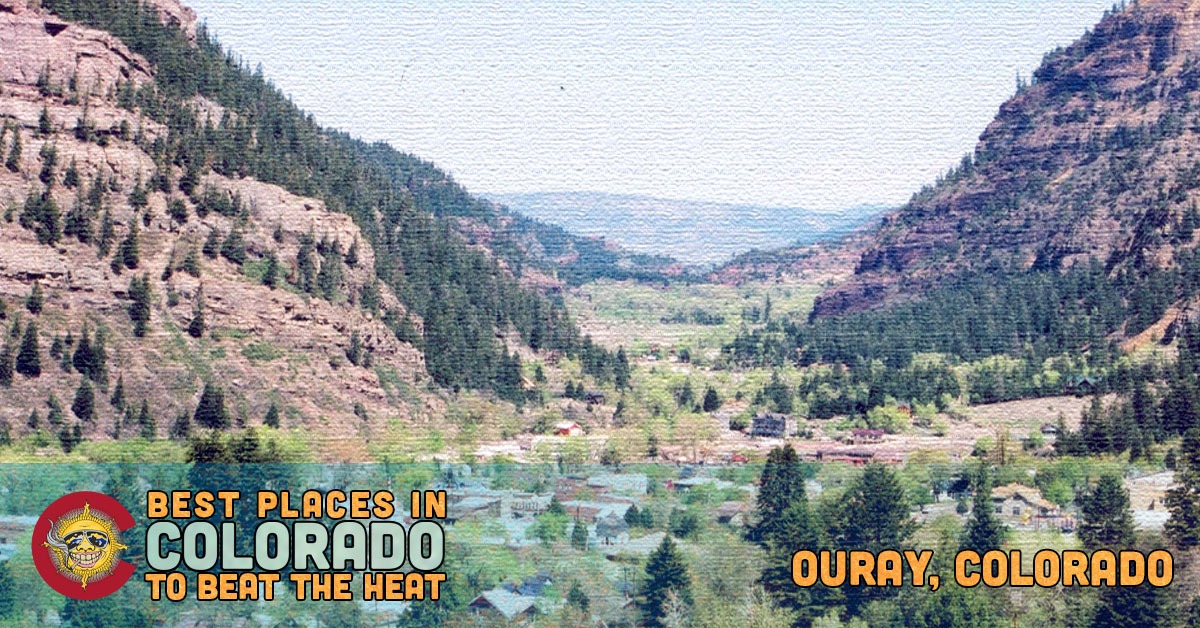 What to do at Ouray, Colorado
Mine Tour: Chill out 1500 feet inside of a mountain! Bachelor Syracuse Mine Tour 95 Gold Mountain Trl, Ouray, CO 81427
White Water Rafting: Class IV-V rapids on the Uncompahgre River
Hiking – endless trails all around, you can even hike into Telluride from here!
Perimeter Trail: a scenic 5.3-mile loop that encircles the town.
Box Canyon Falls: a powerful waterfall cascading into a narrow and deep canyon. Enjoy scenic walking paths and views of the falls.
Imogene Pass: 17.5-mile point-to-point hike with a peak of 13,114 feet!
Bear Lake
Rocky Mountain National Park
Elevation: 9,475 feet
August Average Temperatures: Highs 70°F / Lows 30 °F
Cost: 
$15.00–$35.00 *a timed entry permit is required to enter Rocky Mountain National Park 
from May 26 through October 22nd. 
Right inside Rocky Mountain National Park, Bear Lake acts as a trailhead for lots of breathtaking hikes, no pun intended. One of the most popular hikes is the Bear Lake Loop, an easy trail that circles the lake. Pack a picnic, take a stroll along the lake, dip those toes in the water, and bask in the cool Colorado Air! Remember to respect nature and Leave No Trace!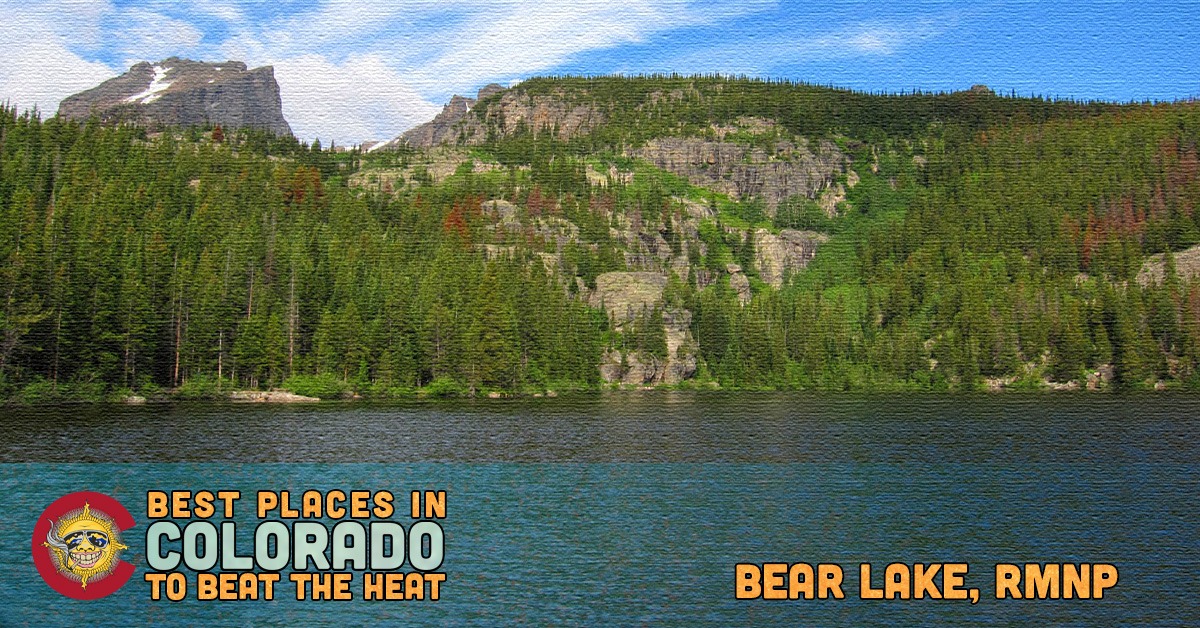 St. Mary's Glacier
Arapaho National Forest near Idaho Springs, Colorado
Elevation: 10,400 Feet
August Average Temperatures: Highs 60°F / Lows 30 °F
Cost: FREE 
A quick day trip from Denver, St. Mary's Glacier offers a short 1.5-mile rewarding hike to the glacier itself. The trail offers beautiful views of alpine meadows and mountain scenery. While the glacier has been shrinking over the years, it still provides an opportunity to see glacial ice up close! Talk about the ultimate way to chill out!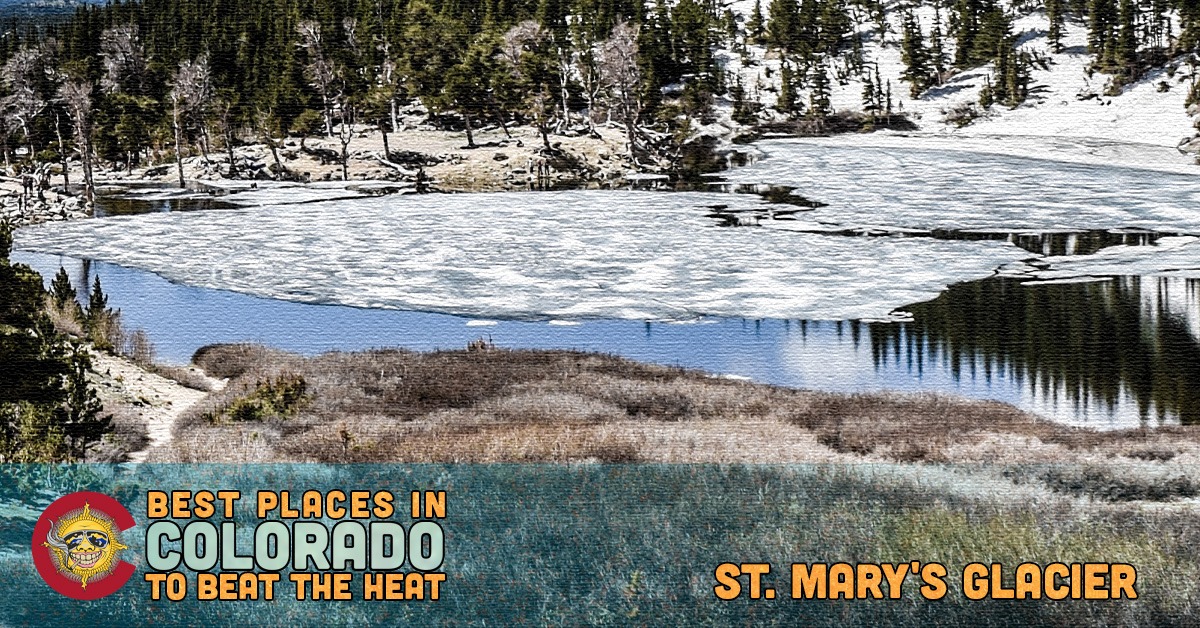 Cool Down Closer to Denver –
Don't want to leave the metro area? We get it. There are plenty of ways to cool down in the city!
Water World –
One of the largest waterparks in the US!
Cost: $44.99
Location: 8801 N Pecos St, Federal Heights, CO 80260 
Pirates Cove Aquatic Center –  A smaller neighborhood family-friendly park and only 1 mile away from Headed West!
Cost: $9.95
1225 W Belleview Ave, Englewood, CO 80120
Confluence Park –
One of Denver's most urban parks, nestled at the confluence of Cherry Creek and the South Platte River! Here, you can kayak, fish, or take a refreshing swim to beat the heat!
2250 15th St, Denver, CO 80202
Headed West –
One of the Best and Coolest ACs in the Englewood Area. Shop for your next water pipe,
dab rig
, or adventure gear. Get out of the sun and into the Coolest spot in the 303! 
Cost:
Free looks & Free AC
4811 South Broadway, Englewood, CO 80104 
 From lakeside lounging to mountain dips, these are our best places in Colorado to beat the heat and we hope they will leave you feeling like a chill hippie at a dead show! Pack that tube with ice, chill out, and enjoy the summer heat!