How is Halloween Celebrated Around the World?
To better understand what we mean when we say "How is Halloween celebrated around the world?" We are going to dive right into what Halloween is actually about. Halloween or All Hallows Eve is a tradition which western Christians celebrate the day before All Saints Day. This celebration was based on another tradition called Samhain which you can read about here.
Halloween is a celebration of the dead, the dark time of the year, honoring spirits, honoring ancestors, and so much more. So the purpose of this blog is to share the festivals around the world that align with Halloween and festivities that are similar.
How is Halloween Celebrated around the world?
USA 
Halloween
October 31st
Halloween takes place during the day of October 31st. This tradition usually involves people dressing up in costumes, kids trick-or-treating in which kids go from door to door in each neighborhood to collect candy or treats, and celebrating anything spooky, dead, horror-related, and more!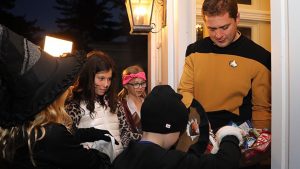 Japan
Obon
End of August
region dependent
Stemming from Buddhist customs this festival is based on honoring ancestors and the belief that spirits and loved ones come back to visit. Traditions of Obon usually include hanging lanterns in front of houses to guide the spirits home, special dances that honor them, and gifts being brought to altars and temples. The festival concludes with the lanterns being put out and sometimes released on the water.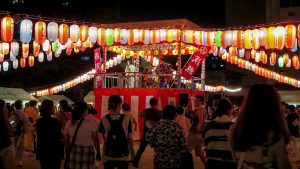 Halloween
October 31st 
Japan has not celebrated Halloween until recent times. I
n 
1997 Tokyo Disney started decorating their park with Halloween decorations and had the first official Disney Halloween in 2000! Since then it has gained a bit of popularity with adults who have parties, dress up in cosplay, and party the night away. Trick-or-treating isn't really a thing cause Japanese people do not like to bother others.
Mexico
Dia de los Muertos
Oct 31 – Nov 2nd 
This holiday is where Mexican families welcome back their dead relatives for a festival of food, drinking, dancing, and celebration. It's believed the gates of heaven open up and allow the spirits to visit their families for a day. The living families often cook their dead relatives their favorite meals, set up altars in honor of them, and decorate with marigold flowers!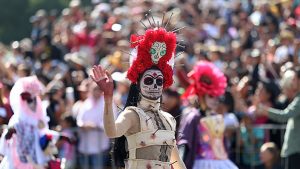 Ireland, Scotland, & Isle of Man 
 

– Samhain

October 31st

 
Italy (worldwide)
All Souls Day
Nov 2nd
All Souls Day is a major Catholic holiday celebrated all around the world. But All Souls Day is an "official" holiday in Italy. On Nov 2nd, Italians light candles and bring chrysanthemum flowers to their dead relatives in graveyards which is a way of paying respects to families and friends. Regionally it is celebrated differently and some regions even have parades where school children dress up as saints.
All Souls Day is celebrated in Belgium, Brazil, El Salvador, Lithuania, Nicaragua, Uruguay, and more.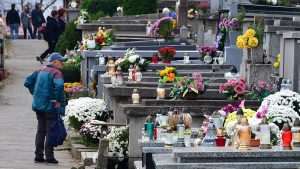 China 
The Hungry Ghost Festival
15th day of the Seventh Lunar month – August in Western Calendars.
This is just one of many festivals that the Chinese have to celebrate their dead ancestors but this one is arguably the biggest since it lasts an entire month. During this month ghosts of people who died, that never got a proper send-off are free to roam the earth while they seek out food and entertainment. People burn paper items in form of cars, money, TVs, and houses to please these ghosts so they do not disturb them during the times they are honoring their relatives.
During the height of this festival, people hold feasts in honor of their dead relatives. They place food and drinks out for them as an offering to ward off bad luck. Lanterns are then lit and set off in rivers to help guide them back to the afterlife.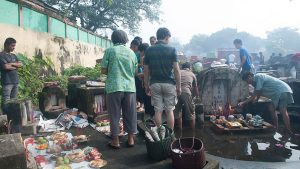 Haiti
Fet Gede
November 1st 
Voodoo is wildly known as a way to communicate with the spirits so naturally there has to be a big festival to celebrate them and that festival is called Fet Gede. This celebration gives Voodoo practicers a chance to face death and celebrate it. Rum and coffee are some of the most popular drinks for this festival while gifts of food and flowers are usually set out for their dead ancestors and relatives. The hope is that the spirits will be pleased and help protect the living throughout the year.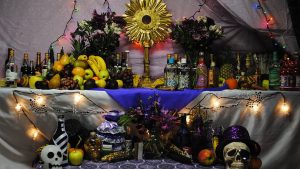 It's truly a beautiful thing to know that we have so many festivals honoring our dead around the world and we all celebrate it in our own way! 
We do feel the need to say that "American Style Halloween" has been gaining popularity across the world. Festivals, costume parties, trick-or-treating are starting to catch on in countries like Germany, Greece, Poland, and the Philippines.