How to Rockies Game!
Oh, Coors Field, How we love visiting you on a hot summer day! Picture this – you are sitting in Downtown Denver, drinking an ice-cold beer, and watching the Colorado Rockies knock the ball out of the park; life is good, right? We bet you are thinking, "Wow, that sounds great! But how do I do a Rockies game the right way?" Like always, we got you!
Fun Fact: The Colorado Rockies are only one year older than Headed West!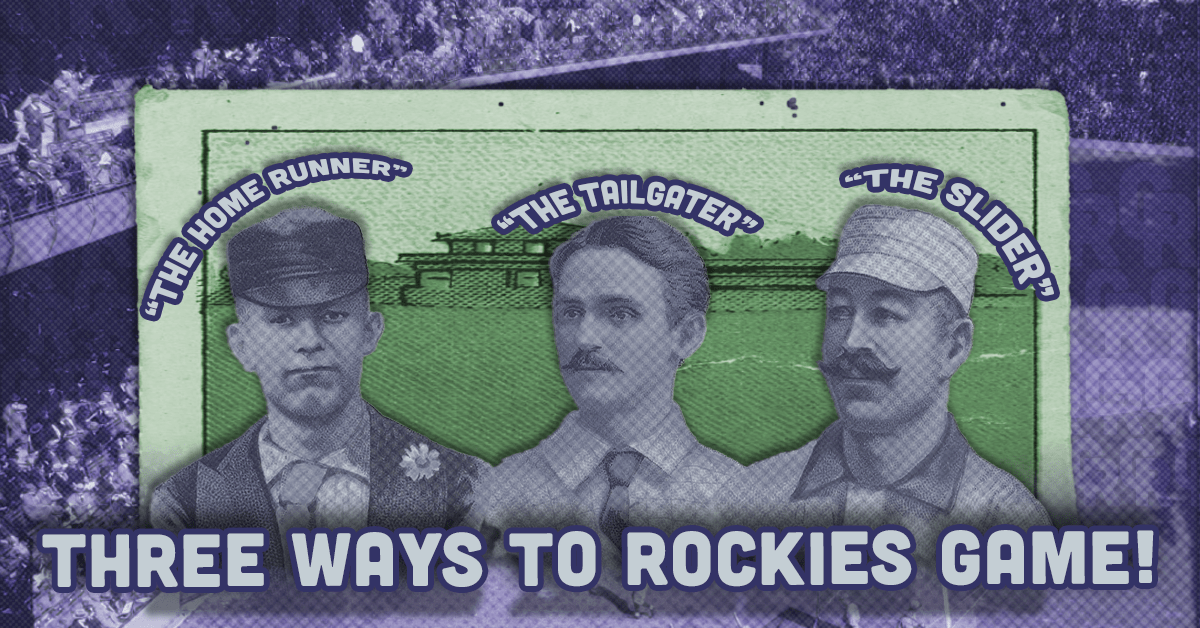 Three Ways to Rockies Game
It's safe to say that we have done a few Rockies games, from the Rockpile to box seats and everything in between! Of course, there is no wrong way to do a Rockies game, but we will share some of our favorite ways with you!
The Home Run
Before Gameday, get some sleep to ensure you are well rested for the long day ahead because you will spend a whole day in Denver cause if you are gonna do a Rockies Game, you are gonna do it right!
This day starts 6 hours before game time! So, get an early start by packing some goodies ahead of time! First, grab an open bag, as Coors Field no longer allows backpacks, and fill it full with whatever you will need for a long day out. Then, hop on the RTD and head downtown.
Your first stop will be at the Wynkoop Brewing Company in the LoDo neighborhood. Once owned by former Mayor John Hickenlooper, this brewery was the first brewpub in Denver! Grab an early brunch on the patio and chill for an hour or two.
After you are fueled for the rest of your day, take a quick walk up to the Commons Park and relax riverside or walk up and down the endless trails and see all the South Platte River trail has to offer! Are parks not your thing? Then enjoy some time by heading down the Urban Putt mini-golf course located around the 16th street mall! After that, enjoy a relaxing stroll up around the 16th street mall and catch the Free MallRide shuttle back to Union Station.
Now that you have your Denver fill, head into Coors field, grab a hotdog and a beer, kick those feet up, and wait for the game to start!
The Tailgater
There is no "Offical" Tailgating Allowed at Coors Field… so this is just something we "heard" people "might" do around Coors Field.
Pack your car with coolers full of favorite drinks, mini BBQs, snacks, fruit skewers, foldable chairs, and trash bags. We suggest you arrive 3-4 hours before game time and claim your spot. Then, start the hang-out sesh with other Rockies fans, listen to tunes, and enjoy the vibes!
The Slider
For those that want a quick stop in Denver to hang out and party, be the "slider!'
You probably aren't the biggest Rockies fan, but you LOVE Denver sports and local vibes, right? So grab a super cheap Rockpile ticket and enjoy a vibe like no other! The Rockpile gets rowdy, and, let's be honest, they aren't the best seats in the house, but it is a damn good time.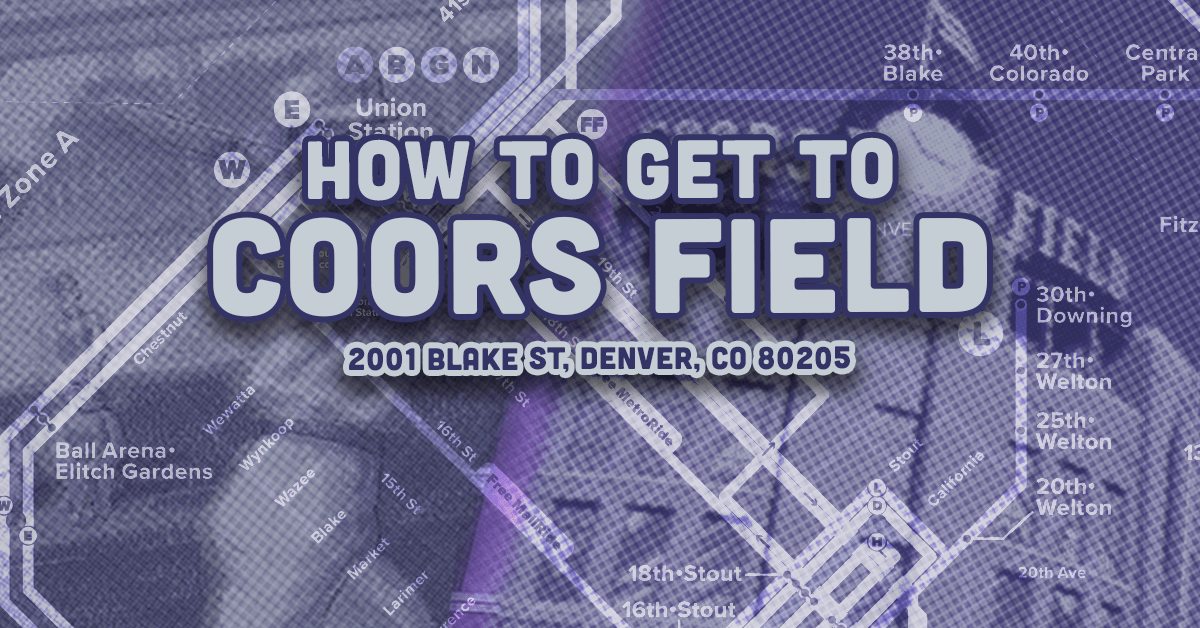 How to Get the Best Deals for a Colorado Rockies Game?
The Rockies' official website is always the best place to score cheap deals for a game. When they know a game isn't sold out, they usually run specials starting as low as $17. Sometimes they even run a Family Value Pack with four tickets, one parking pass, and $40 in concession credits for $59!
Some Rockies Games even have Special events like Movie Night, where you can stay after the game to watch a flick on the big screens! Look out for games marked with * as these games offer discounted items, free swag, or cheap tickets for first responders or military members!
Tickets for the Rockpile are around $7-$10, so if you wanna go cheap, you can!
Getting to Coors Field
Coors Field is located in the heart of Downtown Denver, 2001 Blake St, Denver, CO 80205, to be exact, and not everyone wants to drive their car and deal with all that messy parking. But maybe you do, and that's cool too!
By Car – Parking Downtown can be crazy, but many parking lots are nearby. Unfortunately, they fill up fast, so buy your parking passes in advance!
By Bike – Bicycle parking is available near Gate E at the left corner of Coors Field at Gate A and across from Gate B at 22nd and Blake Streets.
By Bus – 20th and Blake St. is by far the closest stop, but it's gonna be packed! So, try Park Ave West & Wewatta St., or 22nd St & Blake St. stops.
By Light Rail – Closest Stop is the 18th & California Station station or Union Station. Both are about a 10-15 minute walk to Coors Field.
https://www.mlb.com/rockies/tickets/parking#parking-garage
What's not allowed at Coors Field?
Aerosol sunscreen
Alcoholic beverages, illegal drugs, or marijuana (medical or otherwise) in any form
Aluminum or metal cans (including any aerosol cans)
Animals (except trained service dogs for Guests with disabilities)
Backpacks or other multi-pocket bags, including multi-pocket purses
Beach balls, balloons, and other inflatables
Bota bags or wine skin
Bullhorns or noise makers
Camera tri, dual or single leg pods by non-media personnel (see CAMERAS and GAME INFORMATION PROHIBITION)
Confetti, soap bubbles
Drones (unmanned aerial vehicles)
Firearms or other weapons
Fireworks
Fishing nets, poles, or ball retrieval devices
Frisbees
Fruits or vegetables larger than a grapefruit must be sliced
Glass bottles
Hard-sided briefcases, regardless of size
Hard-sided coolers and containers, regardless of size
Hoverboards
Insulated coolers, cups, and thermoses larger than 22 oz.
Knives of any size or shape
Non-alcoholic beer or similar items
Laser pointers
Pizza boxes larger than personal size
Selfie sticks
Skateboards, rollerblades, or shoes with wheels

 

(Heelys)
Soft-sided bags and containers larger than 16"x 16"x 8"
Squirt guns or super soakers
Sticks or clubs (including signs attached to sticks)
Stools or folding chairs
What Can I bring to Coors Field?
Binoculars
Baseball bats for the purpose of autographs; must be stored underneath the seats once the game begins.
Brooms – 6' maximum length (only on the day of a potential sweep)
Empty camel packs
Food items (including glass baby food jars)
Fruit or vegetables grapefruit-sized or smaller
Helmets, motorcycle, or bicycle
Insulated cups or thermoses 22 ozs. or smaller
Paper or plastic cups with permitted beverages
Plastic baby bottles
Plastic beverage containers
Potato chip or nut cardboard cans with metal tops or bottoms
Seat cushions and bleacher backrest
Soft-sided, single-pocket bags or containers 16"x 16"x 8" or smaller
Still and video cameras.
Strollers – that fold or collapse to fit underneath seats (larger strollers may be claim-checked at the gates upon entry)
Umbrellas during the threat of inclement weather. In consideration of the safety and sight lines of others, please use only small, compact umbrellas (28" to 34" span). Large golf umbrellas and umbrellas with metal tips are strongly discouraged.
Remaining 2022 Home Games –
August
9 Cardinals – 6:40pm

10 Cardinals – 6:40pm

11 Cardinals – 1:10pm

12 D-backs Special Theme Ticket Required: University of Colorado Night – 6:40pm

13 D-backs Promotion: Kris Bryant Bobblehead Special Theme Ticket Required: University of Wyoming Night – 6:10pm 

14 D-backs Special Theme Ticket Required: Faith Day – 1:10pm 

19 Giants Special Theme Ticket Required: Denver Bears Night 6:40pm

20 Giants Promotion: Lunch Bag First 15,000 Fans Special Theme Ticket Required: Brew Fest 6:10pm

21 Giants Special Theme Ticket Required: Dinger Day 1:10pm

23 Rangers – 6:40pm

24 Rangers Promotion: $1 Hot Dog Coupon – 1:10pm
September
5 Brewers Promotion: Beanie Cap First 15,000 Fans Special Theme Ticket Required: Movie Night – 2:10pm

6 Brewers – 6:40

pm



7 Brewers – 1:10

pm



9 D-backs – 6:40

pm



10 D-backs Promotion: Los Rockies Jersey – 6:10

pm



11 D-backs Special Theme Ticket Required: First Responder Appreciation – 1:10

pm



19 Giants – 6:40

pm



20 Giants – 6:40

pm



21 Giants – 6:40

pm



22 Giants Special Theme Ticket Required: Business of Baseball Day & $1 Hot Dog Coupon – 1:10

pm



23 Padres Game Highlight: Fan Appreciation Post Game Fireworks – 6:10

pm



24 Padres – 6:10

pm



25 Padres Promotion: Beach Towel – 1:10

pm
Overall, no matter how you choose to do a Rockies game, at least you are getting out and enjoying the vibe. So if you haven't done it, try it once and immerse yourself into the Rockies game vibes!
This blog is intended for entertainment purposes only, the writer of this blog and the website that it is posted on, are not affiliated with the MLB or the Colorado Rockies Please refer to the MLB or Colorado Rockies website for the most up-to-date information.