March Events During Colorado False Spring
Welcome to Colorado False Spring, aka "Third Winter" better known as "Spring of Deception!' You never know what you are gonna get. Do we finally get to go outside and enjoy a heatwave or are we going to get another 3 feet of snow?
Looks like it's gonna be cold af for the foreseeable future, so what can we Coloradans do during this month? We came up with a few ideas…check them out below.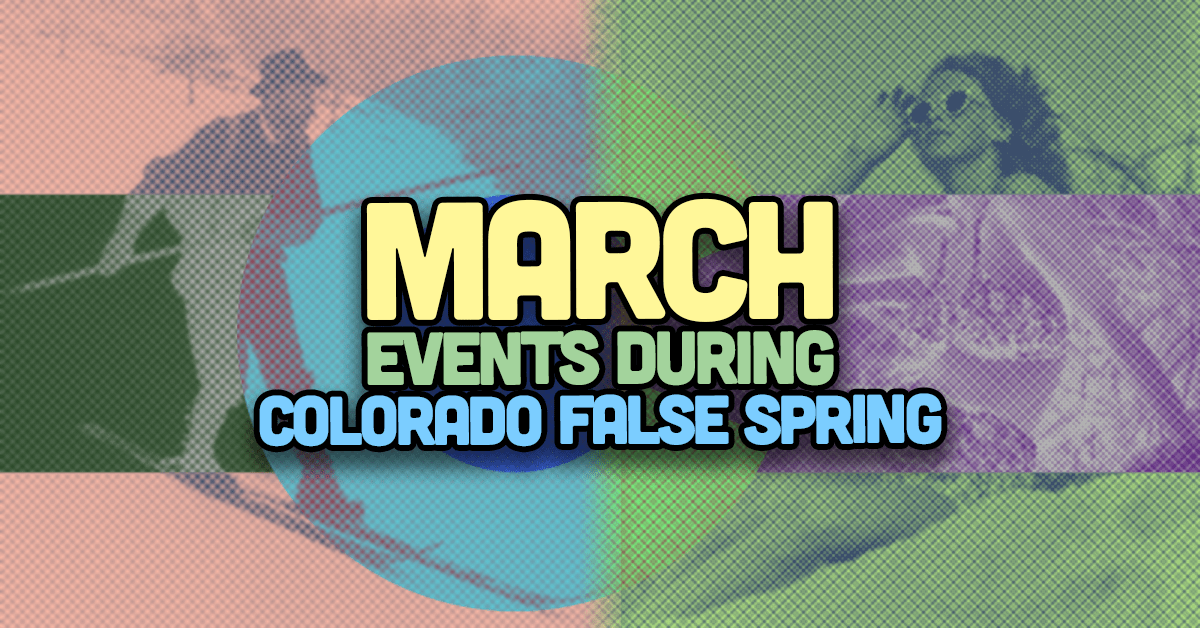 Things to do in Colorado – March 2023 Edition
#1 RAD March sales at Headed West
Only the best for our 303 peeps! Come say "High" and take advantage of sweet savings from desktop vapes to American-made glass!
 #2 Hit The Hills
Ski resorts are still open and there is no better time to shred!
(Reports are accurate at the time this blog was published, totals will change, for accurate details click here)
 Aspen Snowmass – 49-79″ of powder with 90% open trails
 Cooper Mountian – 70″ of groomers with 99% open trails
 Purgatory 85″ of powder with 100% open trails
 Steamboat – 104″ of powder with 100% open trails
 Vail 70″ of groomers with 100% open trials
The mountains are calling you, go say hi!
#3 The Other Kind of Green!
St. Patricks Day is almost here and Denver is gonna do it big! Head downtown on March 17th for the 59th annual Denver St. Patrick's Day Parade!
#4 We Are Frozen!
 
So, why not hang out with a real frozen guy? Frozen Dead Guy Days are probably the most unique and interesting event in Colorado, and if you haven't heard of it… it's wild!
Frozen Dead Guy Days Festival which celebrates cryogenically frozen Grandpa Bredo Morstoel…this story is wild and one that you will have to read to believe.
You can expect some wild events like Coffen Races, a polar plunge, the Frostbite Fashion show, and live music from The Polish Ambassador, Break Science, Kyle Hollingsworth, Toubab Krewe, and more!
Frozen Dead Guy Days – Estas Park, Co – 3/17 & 3/18
#5 Celebrate History!
 Did you know the largest celebration of American Indians takes place in Denver each year?
Get ready to immerse yourself in the vibrant and captivating culture of American Indians at the Denver March Powwow! This incredible event showcases the history, art, community, storytelling, and heritage of over 100 tribes. Join in the celebration with tribe members from 38 states and Canadian provinces.
We are talkin' traditional drumming and dancing to intricate artwork and crafts, the Denver March Powwow offers a truly unforgettable experience that will leave you with a deeper appreciation for native culture.
Spend the day surrounded by the rich history and love that this event brings together. Don't miss out on this incredible opportunity to celebrate and learn about the incredible contributions of Native Americans!
March 17, 2023 – March 19, 2023 – Denver Coliseum
Not feeling these events? That's okay, you can always blaze one out at home until it gets a little warmer. We won't judge you. 
– Headed West Team