Top 5 Places to See Fall Colors in Colorado!
You know…they don't call us COLORado for just any ol' reason! We have arguably the best spots in the USA to celebrate the fall color change! As summer is winding down and fall is quickly coming upon us, we will see a whole lot of these changes in the mountains. So where can you get the best views of fall colors in Colorado, when should you go, and why does it happen? We got that covered all in this blog.
Why do the leaves change colors?
To keep it short in simple, the Chlorophyll in the plant breaks down causing the green to fade.
When fall rolls around the days start to get shorter and shorter and the temperature starts to drop. This causes the trees to stop the food-making process and start hibernation.
Peak Color Change Oct. 5-14.
It's always hard to time it perfectly but our local meteorologists have gotten pretty dang good at guessing the peak times of the fall color change. Elevation plays a huge part in the color change. The color of tree leaves starts to change colors higher in the mountains earlier in the year, usually around mid-late September. As you get closer and closer to Denver, and the elevation drops down and you should start to see changes take place around the beginning of October.
Top 5 places to see the Colors Change
Some of our favorite spots to see fall colors in Colorado are short day trips and we picked a few overnighters too. Make sure you swing by our conveniently located Englewood location to stock up on goodies before you take a trek up to the mountains… you know as we like to say make sure you "Headed West" to see all the fall tree colors!
5. Kenosha Pass – Start of October
60 miles west of Denver on Highway 285.
Kenosha Pass is a well-known stopping point for the Colorado Trail and a great place to go camping. Take Highway 285 west of Denver and explore Indian Hills, Conifer & Bailey before hitting Kenosha Pass and then continue onto places like Fairplay & Buena Vista.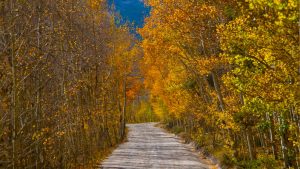 4. Aspen – Mid to Late September
200 miles west of Denver.
What isn't Aspen known for? We know that it's one of the most spendy spots in Colorado but it has the stunning views to back it up. This is not a day trip if you are headed up from Denver. So pack your bags and head up for an awesome night on the town before heading out and checking out those epic views!
3. Telluride (San Juan Mountains) – Mid to Late September
300+ miles south West of Denver
Telluride will be forever one of our favorite spots in Colorado. This town is a timeless Colorado mining city founded in 1878. Silver was mined here up until 1893. Then, in the 1970s they opened an epic Ski Resort and the town boomed yet again. There is really only one way in and one way out of telluride unless you are up for some epic offroading! This is a multiple-day trip from Denver.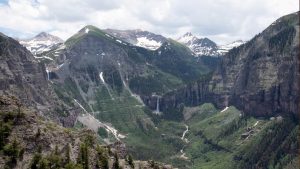 2. Guanella Pass Scenic Byway – Start of October
50 miles west of Denver
One of the closest spots to Denver on our list with breathtaking views. Guanella Pass is located about 20 miles south of Georgetown. Georgetown has some great places to eat and some super cute shops so make sure you stop before heading up the pass to check out the epic views! A quick hour's drive from Denver on i-70 makes this a perfect half-day trip, or a full day if you continue down Geneva Rd to 285 and hit Kenosha Pass on the way back to Denver!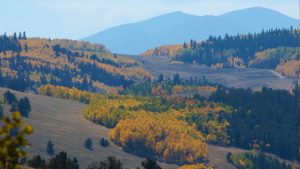 1. Rocky Mountain National Park Late September – Early October
70 miles northwest of Denver.
**Timed entry permits are required to enter the Park May 28 through October 11**
415 square miles of pure colorado. This is THE SPOT to see fall colors in Colorado. We are talking wilderness, show-stopping views, endless hiking, vertical rock faces, and of course Bear Lake.
Estes Park sits just below the entrance to RMNP and you should definitely check it out. Our recommendation to get the most of your trip out to this national park is by taking Highway 36 out of Estes Park then head up Trail Ridge Road take your time, stop and enjoy it, and then stop in Grand Lake for dinner!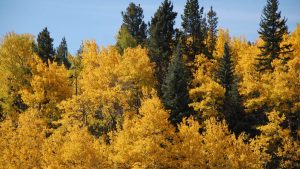 Get out there, people! The leaves are changing and fall is coming! Head West into the mountains and welcome in fall! Make sure you take all the road trip essentials! 
Photos provided by wicfeld