How to Broncos Game
Say it with us…"Mile High Stadium." no matter who owns the rights to naming this Stadium, real Broncos fans and Denverites know that the Broncos play at "Mile High" Stadium. So with that being said, preseason is underway, and the Broncos are about to start their home '22 home game run, but you need to be prepared, right? This blog will give you all the info you need to know "How to Broncos Game!"
Fun Fact: The Broncos had the worst record of any original AFL team…oh how times have changed.
Three Ways to Broncos Game
Not only is Mile High Stadium centrally located just off I-25, which makes it easy to get to, but its footprint is massive! So, that means plenty of space to roam around and enjoy everything that Game Day has to offer! From "Mane" Street to Tailgating with the pros, downtown Denver is LIT AF during Game Day, and these are just a few ways you can enjoy it!
The Touchdown
Before Gameday, get some sleep to ensure you are well rested for the long day ahead because you will spend a whole day in Denver! This is gonna give you the entire Broncos experience!
This "Touchdown" experience will start about 6 hours before game day. Grab your bag and pack it full of whatever essentials you need for a long day out of the house! Hop on the RTD and head downtown!
Your first stop will be Little Machine Brewery, located just outside of the Mile High Stadium, where you'll enjoy some of the best microbrews in the state! Then, grab a bite to eat right down the street at ANY of the local Mexican restaurants planted on Federal Blvd because they are all great!
Now that your tummy is full of Colorado goodness, head for a short visit to Meow Wolf Denver (read our blog about Meow Wolf) and enjoy something truly out of this world! Game time is getting close, so what to do now? It's time to Party!
Walk through the parking lots of endless tailgaters and enjoy the Broncos lifestyle! Hang out and meet fellow fans and enjoy all things orange and blue! Take a look at the Mini Mile High Stadium in Parking Lot J. or visit "Mane" street, located next to parking lot Z. You do not want to miss out on all the family-friendly festivities, including the Broncos Cheerleaders & Stampede Drumline performances.
Once you've had your fill of all that Broncos goodness, make your way to Gate 4 and enjoy the official Pre-game Tailgate Party in the Mile High Mountain Village! Now you are in, so sit back and enjoy all the Might High magic that is to come!
The Tailgater
We talked about walking through the tailgaters in "The Touchdown Experience," but how does one become a Broncos Tailgater? Grab yourself a Tailgate pass from the Bronco's Website and park your car outside of the Stadium…easy as that.
Tailgating can occur in the front or behind your vehicle, but your parking pass is good for one spot only, so respect your surroundings! Bring some chairs, good food, and beverages of choice, and post up before the game! Just make sure you break down your tailgating camp 45 minutes before the game starts!
Tailgate parking begins 3 hours before the start of any game so make sure you get in line early!
Don't want to park yourself? Well, there are a lot of local tailgating clubs you can join, like the Sons of Mile High!
Remember to follow the Fan Code of Conduct cause we want to tailgate forever! 
The Blitzer
We get it, not everyone has time to tailgate or hang out in Denver ALL day, so if that is your situation, The Blitzer is for you!
You already have your ticket, so you are good to go to the game. Head down to the Stadium via RTD, the BroncosRIDE, the Broncos Shuttle, or bike. Then join your fellow fans and walk through Mane Street to catch a Broncos "vibe." Head through security, grab grub, and get ready for Mile High magic!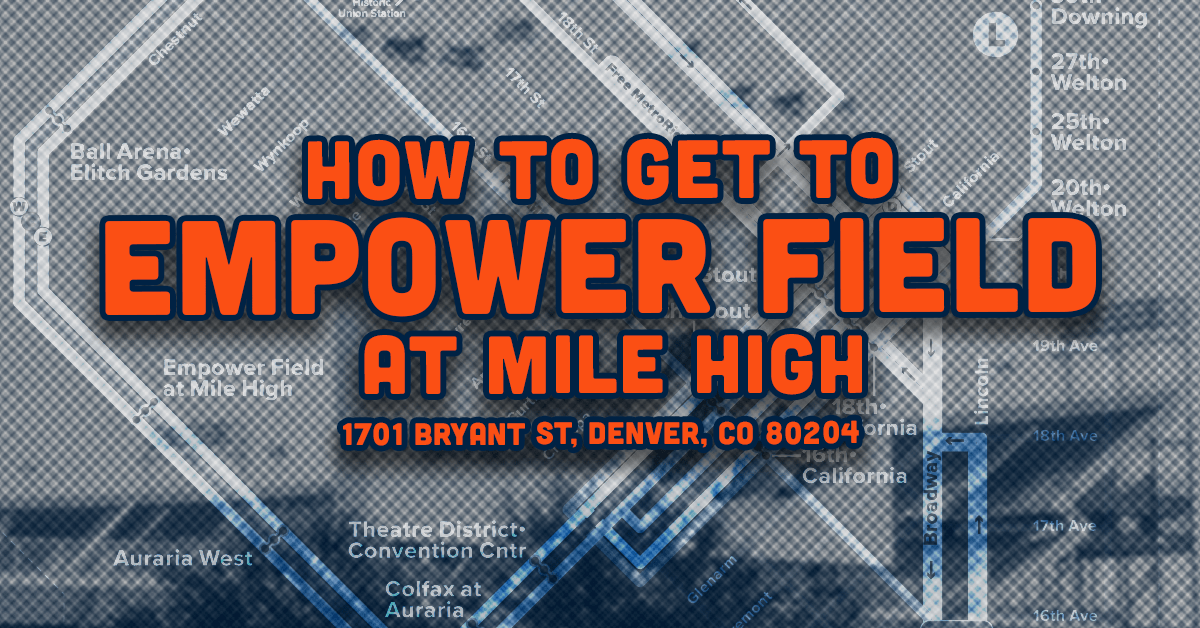 How to Get the Best Deals for a Colorado Rockies Game?
Did you know the Broncos Games have been sold out for over 420+ games? Yep, Mile High football is so popular that every home game since the 1970 season has been completely sold out!
Sadly that doesn't leave very many cheap tickets out there, and you are forced to go through third parties, but you can always find some last-minute deals. Or, better yet, head down to the Stadium and catch someone who is "looking to buy tickets" they will point you in the right direction…Always be careful and remember if it's too good of a deal to be true, it probably is.
The official Broncos ticket resale information can be found here, and they are offering Half Price Tickets starting at only $19!
Getting to Mile High Stadium (Empower Field at Mile High)
By Car – Parking around the Stadium can be crazy, but many parking lots are nearby, and even free street parking. Unfortunately, they fill up fast, so buy your parking passes in advance!
By Bike – Bicycle parking is available near all the gates at Mile High, and a direct bike path can be accessed directly via the South Platte Trail.
By Bus – 15th and California via the 15L, or Federal Blvd & W 5th Ave via the 31
By Light Rail – The C, E, or W lines will drop you off right at the Empower Field at Mile High Station, which is an 8-minute direct walk to the Stadium!
What's Not Allowed at Mile High Stadium (Empower Field at Mile High)
It's important to note that the Stadium now has a Clear Bag Policy – Empower Field at Mile High encourages fans not to bring bags. However, the following will be permitted. One clear bag no larger than 12″ by x 6″ x 12″ OR a one-gallon clear freezer bag (Ziploc or similar). In addition, fans may carry a small clutch bag or purse no larger than 6.5″ x 4.5″, with or without a strap. Each ticket holder, including children, may carry an approved clear bag and a clutch purse.
• Any bags which do not meet NFL bag policy guidelines.
• Seat cushions measuring larger than 18″ and contain zippers, pockets, or concealable areas.
• Glass bottles, cans, frozen drinks of any type, coolers of any kind, thermoses, or ice chests.
• Alcohol of any kind.
• Banners, signs, or flags of any size.
• Large golf-sized umbrellas, strollers, laser pointers, and balls of any kind, including full-sized footballs.
• Single-purpose video cameras.
• Weapons (including knives), any item that may be used as a projectile or one that is deemed dangerous by Stadium management.
• Any animal with the exception of a service animal.
• Electric or battery-operated apparel, including but not limited to blankets, socks, coats, etc.
• Any other item deemed inappropriate by the Stadium Management.
What is Allowed at Mile High Stadium (Empower Field at Mile High)
Clear bags which meet bag policy requirements.

Food of any kind that is contained in a clear plastic bag.

Non-alcoholic beverages in the factory-sealed bottles. However, frozen drinks (water, sports drinks, etc.) are not permitted

Still-photography cameras with a lens that is 6″ or less in length not contained in a case.

Jackets, blankets, or other attire. These should be carried in loosely to facilitate security screening.
Denver Broncos 2022 Schedule

Home Games are marked with "H"
Monday, Sept. 12, 6:15 p.m. at Seattle Seahawks

[H] Sunday, Sept. 18, 2:25 p.m. vs. Houston Texans

[H]  Sunday, Sept. 25, 6:20 p.m. vs. San Francisco 49ers
Sunday, Oct. 2, 2:25 p.m. at Las Vegas Raiders

[H] Thursday, Oct. 6, 6:15 p.m. vs. Indianapolis Colts
Monday, Oct. 17, 6:15 p.m. at Los Angeles Chargers

[H]  Sunday, Oct. 23, 2:05 p.m. vs. New York Jets
Sunday, Oct. 30, 7:30 a.m. at Jacksonville Jaguars in London

BYE WEEK
Sunday, Nov. 13, 11 a.m. at Tennessee Titans
[H] Sunday, Nov. 20, 2:05 p.m. vs. Las Vegas Raiders
Sunday, Nov. 27, 11 a.m. at Carolina Panthers
Sunday, Dec. 4, 11 a.m. at Baltimore Ravens

[H]  Sunday, Dec. 11, 6:20 p.m. vs. Kansas City Chiefs

[H]  Sunday, Dec. 18, 2:05 p.m. vs. Arizona Cardinals
Sunday, Dec. 25, 2:30 p.m. at Los Angeles Rams
Sunday, Jan. 1, 11 a.m. at Kansas City Chiefs
Jan. 7/8, TBA vs. Los Angeles Chargers
This blog is intended for entertainment purposes only, the writer of this blog and the website that it is posted on, are not affiliated with the NFL or the Broncos Please refer to the NFL or The Broncos website for the most up-to-date information.