What is Mabon and How Can You Celebrate it?
For those of us in the Northern hemisphere autumn is upon us, days are getting shorter and crops are in final harvest mode! The official start of Autumn is September 22nd but did you know about the week-long celebration called Mabon that correlates with this date? So what is Mabon and how can you celebrate it? We will fill your brains with some knowledge below.
What is Mabon?
Harvest festivals are as old as time with different origins stemming from all kinds of cultures from all over the world. The origins of Mabon can be traced back to mythology from either the ancient greeks and Angelo-Saxons as they both have similar themes of pleasing the golds near the end of the Summer seasons. The origins of Mabon are still up for debate as to the name came from the Celtic god of Light Modron in the 1970s during the modern pagan movement.
Mabon is typically celebrated during the week of the autumn equinox after the first harvest festival of Lammas/Lughnasadh. Moban was a time to give thanks to the earth for all of its fruits and to share them with others to gain blessings from the gods. It was also a time to be grateful for the second harvest that would keep people fed through the winter months. Mabon in 2020 will start September 21st and end September 29th.
How Can You Celebrate Mabon?
Celebrating an Autumn harvest festival is all dependent on your spiritual beliefs. So Mabon can truly be celebrated however you see fit, but it should follow a few specific ideas.
– Giving thanks to the earth for its late fruits. Apples, potatoes, eggplants, pumpkins, gourds, and seeds are usually bountiful at this time of year.
– Being thankful for all that you have and sharing it with your friends.
– Reflecting on the balance of your own life by honoring the good and the bad. (dark and light)
What should a Mabon celebration look like? Whatever venue you chose to celebrate Mabon at, decorate the room with autumn colors like gold, red, orange, and brown. Try to create a small altar or area adorned with trowels, sickles, and fall symbolism such as a picture of a deer, some hay, or corn stalks! Invite friends and family over and have a feast with equinox appropriate foods such as apple or pumpkin pies, lots of wine, fall hardy stews with lots of late-year vegetables, and lots of grain-rich loaves of bread!
Enjoy this festival with friends and family, share what you have, and welcome in a whole new season! Looking for something yummy to cook and share? Try cooking our go-to Mabon Festival Apple Pie below!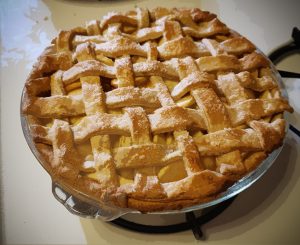 Spicy Mabon Festival Apple Pie
What you need:
– Rolling pin
– 9inch pie pan
– Whisk
– Measuring cup
– Knife
– Wooden spoon
– Plastic wrap
Mabon Festival Apple Pie Filling
6-8 Apples (Granny Smith for tart or Gala for sweet)
Juice from 1 lemon.
125ml Organic Flower
125ml monk fruit sugar
30ml brown sugar
5ml freshly ground cinnamon
5ml freshly ground nutmeg
5ml ground ginger
5ml black pepper
15ml butter
Slice apples as fine as possible, mix with lemon juice, monk fruit sugar, brown sugar, cinnamon, nutmeg, pepper, and butter. Refrigerate mix and start on the pie crust.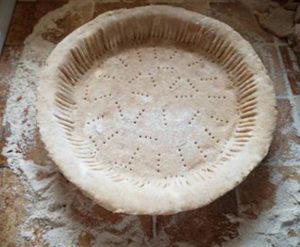 Mabon Festival Pie Crust
500ml Organic Flower
5ml Himalayan pink salt
250ml chilled unsalted butter cut into cubes
120ml Ice water
1 Egg
In a large mixing bowl, combine 250ml Organic Flower with salt. Cut all the chilled into the flower making a coarse texture. Mix in the remaining 150ml of Organic Flower until dough is crumbly. Slowly mix in 60ml of chilled water until dough holds together and is no longer falling apart.  On a clean surface, shape the mixture into a ball and then cut it in half wrap in plastic wrap and refrigerate for 1 hour.
Once the dough is chilled, lightly flour a clean surface and roll out the dough until it is 1 inch larger in diameter than the pie dish (10″ should do the trick!) and at least 1/4inch thick, transfer this dough into the pie dish and refrigerate the dough for about 30 minutes before filling.
Preheat oven to 375F
Add the Mabon Festival Pie Mix into the dough-lined pie dish. Start by placing apple slices along the rim of the dish working in a spiral pattern until you reach the middle.
With the remaining dough, roll out a disc until it is 1/8 inch thick. Cut this dough into 1 inch wide strips and weave across the pie dish crimping edges to the extra 1 inch of pie dough on the dish.
Create an egg wash by whisking the egg in a small bowl, brush this on top of the crust. Sprinkle with cinnamon and nutmeg
Bake at 375F for 30-35 minutes or until the juices are boiling and the crust is golden brown!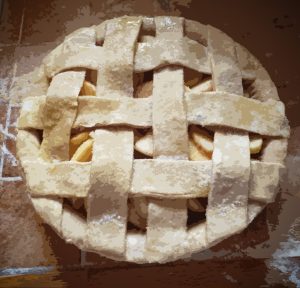 References: 
https://www.learnreligions.com/all-about-mabon-the-autumn-equinox-2562286
https://www.bpl.org/blogs/post/the-origins-and-practices-of-mabon/