Things to Do for a Stoner Stuck Inside
We bet your thinking "Most stoners are already used to doing nothing in their house when they light up, so what are we going to learn here?" Look, we are facing something completely new and we might have to be stuck inside for a while. Not everyone is a stay at home stoner who veg's out all the time. Some stoners are super active and aren't used to being stuck inside!! I mean look at all those hippies out there Hoola-hooping the day away and hiking around all them mountains!…lookin' at you Red Rocks lot.   (By the way, can we just say that we really dislike the misconception about stoners being lazy?! I mean come on its 2020, weed is basically legal and lots of people partake now!!)
Anyways, back to the point of this blog. We sat down and thought about it for a while and came up with a list of some things to do for any stoner stuck inside!
Play a board game: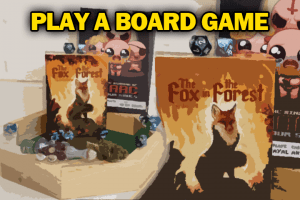 Bring your childhood back with a board game. It's 2020 we don't have to play Shoots and Ladders or Hi-Ho! Cherry-O anymore. There are tons and tons of great board games out there for adults from single player to groups of 8! This is the perfect activity to do for a stoner stuck inside!
 The Fox in the Forest – Foxes are known to be little tricksters and in this two-player card game it's is all about tricking your opponent and winning more tricks than them! But if you become too much of a trickster, you'll lose the game like a villain in a fairy tale. This game is easy to pick up and play and your typical round lasts about 30 minutes. With 33 Cards and 17 Tokens, this card game will eat up a lot of time and best of all, Its' hella fun! Pick it up from your local card game shop. We'd recommend Enchanted Grounds.
The Binding of Isaac: Four Souls – Based on the popular indie game The Binding of Isaac created by Edmund McMillen. With over 2.5 million dollars backing this project on Kickstarter Four Souls came to light in late 2018.
This game is not for kids. 2-4 Players take turns using loot cards and items to kill monsters, by doing this you can win more items, loot cards, and even Souls! The first player to reach a total of 4 Soul cards wins! Betrayal, bartering, and trading are strongly encouraged. For those of you who have played the indie game…this is probably the best card game you can play!
Dungeons and Dragons 5e – Dungeons and Dragons has been around since 1974 and is arguably the first true roleplaying game. A game that garnered so much attention that it was protested in the '80s and groups such as BADD (Bothered About Dungeons and Dragons) were formed. It was even claimed that "The game is an occult tool that opens up young people to influence or possession by demons" by a church leader named Jon Quigley. Much time has passed since all the controversy and D&D has been featured in lots of pop culture like E.T., Community, The Big Bang Theory, and most well-known, Stranger Things.
Start a campaign with a handful of friends and go on an epic adventure using only your creativity, imagination, a rule book, and some dice. Countless hours of fun and adventure are to be had as you create your own unique character and immerse yourself into unique worlds. Roll playing is highly encouraged and it's a great way to escape all the real-world problems right now. Check out Roll20®.net for all your "Social Distancing" needs.
Cards Against Humanity – We all know it, we've all played it, and we all could use a laugh like this now… This game is especially great with their Weed Pack! Did you know you can download a free version of this game? Check it out here!
Exploding Kittens – From the hilarious cynical mind of Matthew Inman who created the comic The Oatmeal and game designer Elan Lee, who was a former CCO at Xbox, formed the Tabletop game company Exploding Kittens. They launched a Kickstarter campaign with the initial goal of $10,000 to get the game funded, but by the end of the campaign, they raised over $8million making it the most-backed game of all time on Kickstarter.
This card game is probably about one the funniest games out there and we really don't want to ruin it for you, so all we are going to say is there isn't much to this game other than it being a "highly strategic kitty-powered version of Russian Roulette."
Stay Active: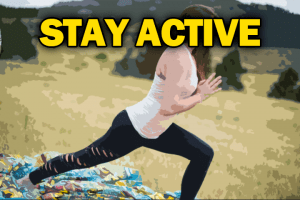 Is your favorite gym or yoga studio closed? Well, ours is. So, we have to stay active at home for the sake of well-being.  What can we do at home that will help us stay active and keep us going? We have a few ideas.
At-Home Yoga
Yoga is great for your posture, joints, health, and overall mind-body wellbeing. It's not just for hippies, it's a great daily practice to get into. Hatha is the most basic form of Yoga that we use today combining a series of basic movements with breathing exercises. There is A LOT of useful information on Yoga on the internet but we are just gonna keep it low key and tell you to check out this blog and this website. Those two links basically contain everything you need to know.
Organization and Cleaning
Spring is here! Now is a great time to start up that Spring Cleaning and reset your space for better Feng Shui! Not only will you be able to go through some of your old stuff, but you'll also have plenty of time to organize, clean out old pipes, finally finish those projects that you "never had time to get around to," and clean your clutter. But this also gives you time to clean your space and provide yourself with a less stressful living environment.
Don't forget there are tons of local donation centers in your city that would love to take all the goodies that you are getting rid of!
Like Marie Kondo Says "The space in which we live should be for the person, we are becoming now, not for the person we were in the past." Don't know of Marie Kondo? Check out her website for some motivation to get your space clean!
Meditation
We will finally have plenty of time to catch up on some much-needed meditation. Whether it be Mindfulness, Concentrative, Purposeful, Open Awareness, or even Guided. All types of meditation are good for the health of your mind and you should give it a go! We have some recommendations on where to get started.
DharamaSeed – Filled with tons and tons of great podcasts ranging from overall well-being to guided meditations.
Meditation Oasis Podcast – Guided meditations and great instructions for you to start out with.
Create, Create, Create
Just because you aren't a world-class artist, doesn't mean you can pick up a pen or paintbrush and start creating an awesome work of art! Turn on some of your favorite tunes and get in the right headspace. Put that writing utensil to the paper and let your mind do the work! Maybe drawing isn't your favorite activity? Well, you could always learn origami, knitting, sewing, model building, or even woodworking. Creating in the key to keeping your mind healthy and active. In times like these, it's important to just sit down and create something!
Dance the Day & Night Away
 We are unsure of when the real concert season going to start up. So why not take this time to learn some new dance moves, stay active, and dance the night away? Head on over to your favorite music app, turn something on, and just move to the music. Lots of artists are putting on "couch shows" and live streaming from their respective studios. Some are even putting up live music for free! Just for example,  STS9 just put up the entirety of their 2019 concert run HERE for us to listen to!! So head on over to your favorite artists Social Media and see what they might be doing!
All Things Tech:
 Sometimes you don't want to do anything other than kick your feet up and relax and nothing beats a good binge watch of your favorite movies. Before you plant yourself into your couch and chillax with a bag of popcorn and your favorite CBD infused drink, visit this blog to see what ranks as our favorite Stoner Movies!
Movies not so much your thing? We got you with a list of some of our favorite video games for stoners!
Best Stoner Video Games: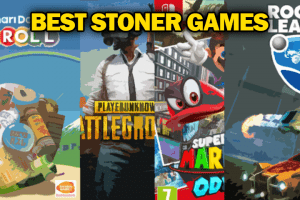 Super Mario Odyssey (Nintendo Switch) – Come on… One of the most classic video game characters in a NEW Open-word environment with tons of new features? It doesn't get much better than this. Plus, it's super easy to just pick up and play! Just enough action to keep your attention but not fast passed like a lot on online multiplayer games!
From Nintendo: "From the sandy dunes of the Sand Kingdom to skyscraper-packed New Donk City, you can explore astonishing new locales to your heart's content, and run into familiar friends—and foes—along the way. Thanks to Cappy, Mario now can control certain objects, enemies, and more. With just a flick of the wrist, you can toss the hat-shaped hero at them to take over!"
Katamari Damacy REROLL (PC & Switch) – A 2018 remake of the classic Japanese PS2 game, Katamari Damacy REROLL brings you back to play as the Prince as he rolls the Katamari all around different towns making objects stick to it, as it grows bigger and bigger! Each level you must collect enough stuff on the Katamari for the Prince to recreate the stars and the moon! Okay, we might have lost you here as this is one hella trippy game, read the synopsis below to see if that helps clear anything up. If not, just play the dang game already and thank us later.
From Steam: "When the King of All Cosmos accidentally destroys all the stars in the sky, he orders you, his pint-sized princely son, to put the twinkle back in the heavens above. Join the King and Prince of Cosmos on their wacky adventure to restore the stars – now in full HD!"
PlayerUnknown's Battlegrounds (PC, Xbox, PS4) – The OG classic of the "Battle Royale" style video games. This game starts you out in a drop plane with 100 other players as you duke it out on massive maps, and try to survive to be the last one standing! Super high paced, action-filled, and with rounds lasting only about 30 minutes, this game is so immersive that you won't even notice how much time has passed!
From Steam: "PLAYERUNKNOWN'S BATTLEGROUNDS is a battle royale shooter that pits 100 players against each other in a struggle for survival. Gather supplies and outwit your opponents to become the last person standing."
Rocket League (All Platforms) – So you may not like sports, but that's okay because while Rocket League is kinda a sport, its also highly addictive and so much fun to play. Teams of 2, 3, or 4, face off in a "soccer" style arena trying to score goals with a single ball-shaped bomb using rocket-powered mini cars. What makes this game super fun is not only the Cross-platform online gaming, multiple beautify created arenas and non-stop action. But more you play the more you unlock to customize your car and make it your own. We have lost so many hours playing this game and are still so in love with it!
From PSYONIX LLC – "Rocket League is a high-powered hybrid of arcade-style soccer and vehicular mayhem with easy-to-understand controls and fluid, physics-driven competition. Winner or nominee of more than 150 "Game of the Year" awards, Rocket League is one of the most critically acclaimed sports games of all time, and boasts a community of more than 60 million players!"
Stoner Specific: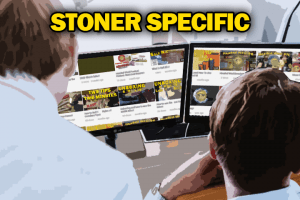 Learn how to hand-roll – Don't be embarrassed about not being able to know how to roll something up. We aren't at the best at it either and it has taken us a while to get to the point to where we are today! Let's roll one together with our how-to videos below.
Maybe you can't get the hand rolling technique down? Grab a Rolling Machine from either of our two locations and learn how to use it by watching this video.
Once you get hand-rolling down Learn to roll a crutch to add into that hand-roll you just made!
Have the munchies from all that rolling you just did? Learn how to bake with CBD and make your very own at home.
Looking to spice up things up? We have this awesome BLOG for some great 420 friendly recipes.
Smoking Games: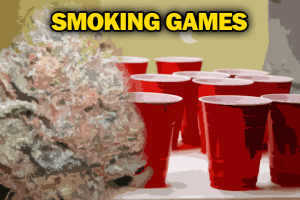 Turn any drinking game into a smoking game. Just replace the drinking rules with a massive water pipe hit or fatty dab! We have a shortlist of games below that you can easily play by smoking down instead of drinking!
Beer Pong | Toke Pong – Fill up 10 16oz cups with water a quarter of the way full and arrange them in a pyramid formation on each side of an 8-foot long table. Teams take turns throwing a ping-pong ball into the other team's cup. Once someone has made it in a cup, remove it from the table and then that team must now take a hit or dab. The team that successfully removes all cups from the table wins!
Movie Smoking Game – Before watching your favorite flick come up with a list of 3 or more keywords that are said in the movie. Also pick at random a few things that might happen, like someone falls over or an explosion happens. Every time a keyword or key event happens, take a hit or dab! Not feeling that creative? This website has a ton of movies already set up for you!
Stoner Jenga – Normal Jenga but with funny challenges written on each Jenga blog. Start out by creating a losing rule like; the loser has to take a 1g dab or loser has to sit out of the smoke circle next go-around. After the losing rule has been put into place, get creative and write down some funny challenges, truth or dare, stoner challenges, hits or waterpipe rips and have some fun! The person who knocks over the Jenga stack must do the pre-determined losing rule.
Headed West also has over 100+ hours of content from "The Art of Glass Blowing," "How to and Unboxing," and a boatload of other stoner related videos on our YouTube. Our blog features everything from Industry News to Mysteries, and Metaphysical life to Things to do in Denver. We invite you to check these out!
Well that's it; you made it to the bottom. Hopefully, you have learned some stuff along the way and this blog has helped you beat the mundane and make the most of the downtime!