Faux-Twenty Sales and Headed West's Reopening!
[Insert a joke here about how last month was a big blur because of the 420 holiday] Okay, we really can't make a joke about that because we really couldn't celebrate the holiday and the truth is we are just too excited to joke around right now because we need to announce that Headed West is Reopening!!!
Headed West Reopening 
Walk-up and Take-out Service: May 1st from 11am-4:30pm 
Give us a call and place an order or simply walk up to our doors and tell us what you need and we will get it for you!
We plan on opening for FULL SERVICE on May 9th from 10am-6pm!
Come back into our stores and shop around while practicing social distancing!
(Dates and times are subject to change based on any new local and statewide orders)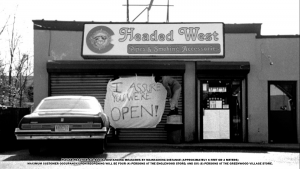 Celebrate 420 but in May with FAUX-TWENTY!
Sadly, 4/20/2020 was kind 0f a bust, but that doesn't mean that we can't celebrate it. To honor the holiday and keep it real with our peeps Headed West is proud to announce FAUX-TWENTY a massive 420 holiday sale celebration for the month of MAY! We just want to have fun and all of you again so while we are all getting back to "normal" life, let's celebrate the holiday that we all love and missed! Check out the epicness of FAUX-TWENTY below!
The Best May Faux-Twenty Sales EVER!!
30% Off One, or Buy One Get One FREE on all glass hand pipes, bubblers, and chillums!! Mix and match!
30-35% Off entire selection of glass water pipes and dab rigs!! 30% Off up to $199.95, and 35% off on any priced $200+!!
25% Off Snow Cloud and G9 Tick E-nails!!
20-50% Off grinders!!
Buy One Get One FREE on all Maeng Daddy brand kratom capsules and powders!!
20% Off One, or 30% Off any Two or more Charlotte's Web and Straight Hemp CBD tinctures!! Mix and match!
10% Off One, or 20% Off Two or more Backwoods 5-packs!!
20% Off One, or Buy One Get One 50% Off on Redwood Reserves CBD flower and CBD cigarettes!!
Buy and Save on our entire selection of CBD Vape Carts and CBD Pods with 20% Off One, 30% Off Two, and 50% Off Three or more!! Mix and match with brands including CBDistillery, CBD Clear, Green Lotus, and OG Pods!
**All sales are valid while supplies last. May not be combined with any other sales, offers, or promotions. Age restrictions apply. Free items based on regular price and must be of equal or lesser value.
If you were wondering what was happening last month with Headed West during the whole confusing COVID-19 pandemic, visit this link. If you need information on how to how to stay safe and the best practices for coming to visit us, head on over to the CDC website cause they got all the good info.