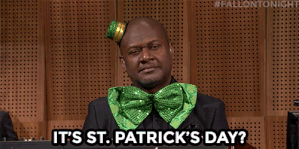 It's time to get yo' green on.
Why, hello there March. Is it just us or does it feel like 2019 is flying by way too fast? No kidding, it was like we were all celebrating New Years just last week, but alas, here we are, hitting up March like a confused leprechaun trying to find a lost pot o' gold. Oof. It's all good though, we love March, and we love St. Patrick's Day. There's no better time of the year to go full on green. GREEEEEEEEN. Ok, maybe for 420 but that's next month. WOOT. But first! We must celebrate this beautiful month of marvelous March so here's some sweet deals for all of you lovely patrons.


1.  20% off all Zob brand waterpipes and rigs!!
2.  15% off on all licensed Liquid Blue concert, band and psychedelic print t-shirts when you buy two or more!!
3. Buy One-Get One 50% off on entire selection of Remarkable Herbs kratom!!
4. 20% off entire selection of Cali Crusher grinders!!
5. 15% off, or Buy One-Get One 50% off on entire selection of Onyx stone pipes!!
6. 15% off, or Buy One-Get One 50% off an the NEW Vape Goons ejuice and Salt Bae Salt Nic lines!!
7. Roll-It, Spark It: Buy any 3 packs of rolling papers get one FREE! Buy any 4 packs of wraps get one FREE!
*All sales are valid while supplies last. May not be combined with any other sales, offers, or promotions. 
CLOSEOUT ITEMS – Hurry, these sales will NOT last!
All Grassroots and Headspace clothing now 50% off. (*Excludes Phil Lewis Grassroots hats, and Phil Lewis Hoodies).
Locally made Metal Chain jewelry now $5 for earrings, $5 for bracelets, and $10 for necklaces.
All Toxic Tees t-shirts including Rick & Morty, Simpson, and Alice in Wonderland designs now just $10 each.
*All sales are for in-store purchases, while supplies last. All "Buy One" promotions are at full retail price, and free or discounted items must be of equal or lesser value.
Questions? Comments? Shoot us a note!