We all know CBD to be a miracle worker when it comes to pain relief, depression, digestion issues, mood balance, and more. If you've been into our shops recently, you might have noticed we're starting to carry A LOT more CBD in our inventory of awesome. There's a reason for this!!! We know how amazing this natural remedy is and we want to share it with the wooooorld. Here at Headed West, we strive to provide the highest quality products to our customers, which is why we are excited to now be carrying Pure Spectrum CBD products.
It's NUTRACEUTICAL NOT PHARMACEUTICAL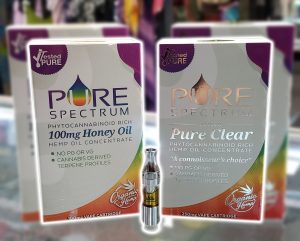 Do you know what the key is to self-healing, happiness, and longevity? A healthy endocannabinoid system. It's true… this system effects your body and mind. Any unhealthy part of this system can reap devastating consequences on the body and mind so it's important to keep it all aligned. CBD is one natural and healthy way of doing just that.
Anandamide – This endogenous cannabinoid is naturally found in the body and helps with the integration of the body and mind.
CB1 Receptors – CBD has been proven to act as an antioxidant and neuroprotectant; in turn helping to prevent neurotoxicity by neutralizing free-radical toxins in the brain, our navigation control center.
CB2 Receptors – These receptors are found throughout the whole body and help the body to maintain homeostasis. When CBD binds with these receptors, it helps them function properly.
Retrograde Signaling – Unlike most other transmitters, Endocannabinoids can travel in a backward direction. When they bind to their receptors, they have the ability to modulate neuron activity, thus maintaining balance in the body.
Optimal Wellness – Endogenous cannabinoids have been shown to promote cardiovascular health. Healthy hearts are so important when it comes to maintaining optimal wellness.
Maintaining Gut Health – Our digestive system is key in controlling our energy levels and overall health. The Endocannabinoid system supports gut function and optimal GI health.
Grounding – Grounding can only be obtained when we help to support our bodies natural ability to stay in homeostasis. Creating a strong foundation will help us prepare for whatever life decides to throw our way.
Pure Spectrum's goal is simple. They aim to provide the most pure and reliable phytocannabinoid products on the market. "Our objective is to improve our customers' daily lives by exceeding their needs and expectations by having the safest, tested pure and potent phytocannabinoid products." All their product is tested pure (see the results for yourself here), non-GMO, THC free, and certified Kosher. Dope, right?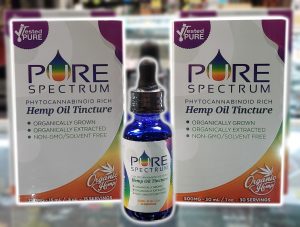 Pure Spectrum never buys and resells their products. All of their product is created from hemp that is grown, harvested, extracted, produced, and shipped right here in the good ol' US of A. Best thing about it? All their hemp is 100% organic. No pesticides here, folks.
So…. It's clear why we've decided to throw these products in our stores. Only the best for our customers. As of right now, we currently have Pure Spectrum's hemp oil tincture, CBD isolate, CBD lotion, and honey oil concentrate in stock. Stop in to any of our three Denver locations and try out one (or several) of the Pure Spectrum products today! If you have any questions regarding the Pure Spectrum products we carry, comment below or shoot us a note.