Happy XMAS in July!!
HO! HO! HO! It's our favorite time of the year cause Xmas in July is here! A little birdy told us that Snoop-Claus is sneaking' around Denver putting little treats under everyone's trees but only if you've been on the "nice list!" That same little birdy told us to put out our best D-E-A-L-S to celebrate this most fantastically dank holiday!
We decked out our shops with the freshest gear, polished all our glass, and we are so ready to bring you our best Xmas in July cheer! Check it out below!
Xmas in July SALES 
Valid through Friday, July 31st
1) Buy One Get One 50% Off on all glass bubblers, chillums, rigs, hand pipes & waterpipes! 
2) 20% Off entire selection of Focus V Carta, Pulsar ROK, and Puffco Peak – includes limited-edition models!
3) 20% Off Whip It brand NEO torch lighters, or save 25% Off with the purchase of any pipe or rig!
4) 20% Off SLX 2.0″ grinder, or save 25% Off with the purchase of any pipe or vaporizer!
5) Buy One Get One FREE on all Tasty Puff Tasty Tip Flavored Cones and Randy's Puff Pops!
6) Buy One Get One 50% Off on OPMS Liquid kratom & Urban Ice Organics kratom capsules!
7) 30% Off, or save 40% Off any two or more of Charlotte's Web 30ml 7mg CBD tinctures!
8) 20% Off on all purses, backpacks, bags, and wallets!! *Excludes Erbanna and Dime Bags brands.
*All sales are valid while supplies last. May not be combined with any other sales, offers, or promotions. Age restrictions apply. Free items based on regular price and must be of equal or lesser value. 
Looking for something to do after you come for a visit to our shops for Xmas in July? Thanks to the WESTWORD for putting together this nice little writeup on what to do during this Covid-19 Summer. Fun Fact: You can pick up the latest issue of Westword in-store each week!
Still, looking for more to do? We got you with our list of favorite Disc Golf Courses, be sure to check out each of the courses website/city info to see if they are open!  Maybe you could take a road trip to some of these local destinations and get spooky!!
Headed West's Grateful Giveaway:
As you may have heard, Dead & Company has canceled their 2020 summer tour due to Covid-19. Bob Weir, John Mayer, and the rest of the Dead fam were supposed to be throwing down some funky tunes at Folsom Field on July 10th & 11th and needless to say, we are a little bummed the shows aren't happening!
In honor of the shows that were supposed to happen, we whipped up this epic Dead inspired giveaway to ease your minds and help you keep on truckin' through the rest of the summer!
Head on over to our Instagram starting 7/1/2020 – 7/11/2020 for your chance to win some epic Grateful Dead Gear!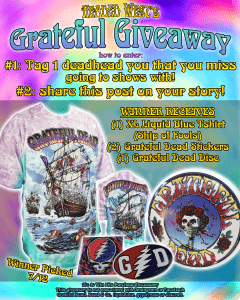 Enter this giveaway on INSTAGRAM Follow @headedwest_
---
New Hours of Operation
---
Sunday:10am – 7pm
Monday: 10am – 7pm
Tuesday: 10am – 7pm
Wednesday: 10am – 7pm
Thursday: 10am – 8pm
Friday: 10am – 8pm
Saturday: 10am – 8pm
New Hours of Operation apply to both Headed West locations!
Please Stay Home if you feel sick. Wear a mask to enter our shops. Curbside pickup is available!
Planning a visit to our shop and want to be safe?
Check out what the CDC says on going out!